'Spin City': The Complete First Season Now On DVD

Step inside the inner sanctum of one of the most sharp-witted and funniest political machines ever. Meet Deputy Mayor Mike Flaherty and the quirky City Hall staff members from
Spin City
as they expertly spin their gaffe-prone Mayor Randall Winston and the City out of daily near-misses. >From dealing with the Mayor's problematic wife to catching a nudist roaming inside the City Hall to losing a deceased police dog just hours before the wake, this idiosyncratic office family goes the distance in this popular ensemble television comedy.
The critically acclaimed and award-winning television series
Spin City
draws back the curtain of this dysfunctional City Hall in the biggest city in America and provides a smart and comic take on how much it takes to keep the well-meaning but bumbling Mayor looking good. Season One of
Spin City
boasts a pedigreed ensemble cast including
Michael J. Fox
,
Carla Gugino
(
Chicago Hope
,
Karen Sisco
),
Barry Bostwick
(
Law & Order: SVU
),
Richard Kind
(
Mad About You
,
Scrubs
),
Alan Ruck
(
Ferris Bueller's Day Off
),
Michael Boatman
(
Law & Order
),
Connie Britton
(
Friday Night Lights
), and Alexander Chaplin (
Scrubs
), alongside notable guest stars
Stephen Colbert
,
Jennifer Garner
,
Woody Harrelson
,
Marlee Matlin
,
Gretchen Mol
,
Amanda Peet
,
Luke Perry
, George Stephanopoulos,
Courtney Thorne-Smith
,
George Wendt
, among others.
Watch the trailer for "Spin City"

Marking 12 years after
Spin City
's initial premiere on network television, Shout! Factory will release
Spin City
: The Complete First Season DVD box set on November 4, 2008. Season One of the series is available for the first time ever in this 4-DVD box set containing all 24 acclaimed episodes, all-new interviews with Michael J. Fox, the series creators and the ensemble cast, 7 episode commentaries and Highlights of The Paley Center for Media Seminar featuring Gary David Goldberg and Michael J. Fox in 1996.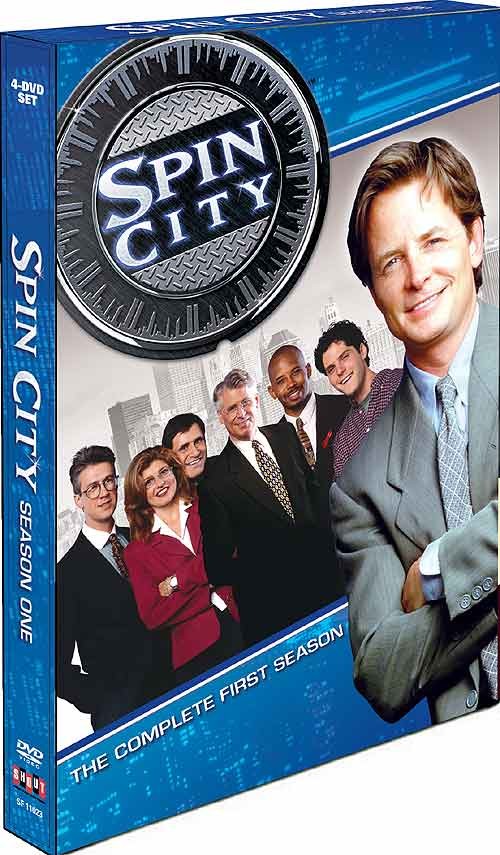 Spin City
is a smart, sophisticated sitcom about the behind-the-scenes workings of a fictional NYC based City Hall. Workaholic Mike Flaherty (Fox) is the Deputy Mayor of New York City, serving as Mayor Randall Winston's (Bostwick) key strategist and much-needed handler. Mike runs the city with the help of his oddball staff: an anxious and insecure press secretary (Kind); a sexist, boorish chief of staff (Ruck); an impeccably groomed gay activist running minority affairs (Boatman); a sharp and efficient, man-crazy accountant (Britton); and an idealistic young speechwriter (Chaplin). Like Mike, they are all professionally capable but personally challenged.
Created by Gary David Goldberg and Bill Lawrence, executive produced by Michael J. Fox and Gary David Goldberg, and produced by UBU Productions in association with Dreamworks Television,
Spin City
debuted on ABC on September 17, 1996 and received extraordinary receptions from the critics and viewers. The series reunited Fox and
Family Ties
executive producer and creator Gary David Goldberg and proved that the magic of their creative partnership was enduring.
Shout! Factory is a diversified entertainment company devoted to producing, uncovering and revitalizing the very best of pop culture. Founders Richard Foos, Bob Emmer and Garson Foos have spent their careers sharing their music, television and film faves with discerning consumers the world over. Shout! Factory's DVD offerings serve up classic, contemporary and cult TV series, riveting sports programs, live music, animation and documentaries in lavish packages crammed with extras. The company's audio catalog boasts GRAMMY®-nominated boxed sets, new releases from storied artists, lovingly assembled album reissues and indispensable "best of" compilations. These riches are the result of a creative acquisitions mandate that has established the company as a hotbed of cultural preservation and commercial reinvention. Shout! Factory is based in Santa Monica, California. For more on Shout! Factory, visit www.shoutfactory.com.