Spike Lee To Remake 'Oldboy'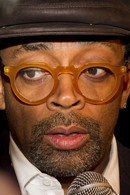 Spike Lee has signed on to remake Park Chan-Wook's ultra-violent vengeance thriller Oldboy for Hollywood.

Mandate Pictures executives have ended months of speculation by announcing Lee is their man for the revamp of the hit Korean film.

Mandate bosses have been trying to get Oldboy adapted since 2008, and now they think they have the perfect script and director.

Steven Spielberg and Will Smith were reportedly attached to the project at one point.