Spencer Grammer Comments On The Season Finale Of 'Greek'

ABC Family's series
Greek
wraps up its second season on June 15. Star
Spencer Grammer
gave Starpulse.com a preview of things to come in the final round of shows.
""We have a father daughter weekend," Grammer said. "That will be fun. Jerry Lambert plays my father on the show, so he's going to come back. That will be fun. There's like a fight. There's like a football thing or something. It's pretty funny what I've read. I was laughing out loud actually. There's some really good jokes in it."
Grammer already goes back to work at the end of August on season three, which promises to deliver even more laughs. "I think the next season coming up we're going to have a little more, at least for my character, it's going to be a little more comedy. Maybe a little less love triangle story line. I've had like 80 triangles."
Perhaps it helps simplify Casey's love life that some of her costars get swept off by other shows. "I saw Mike Rady yesterday actually. He was doing photo shoots and stuff. It's so great, we've had, I guess for our age, a lot of really great guest stars. Like even the small parts like Jessica Lowndes was on our show and now she's on 90210. A lot of people have really like come on our show and had great success afterwards."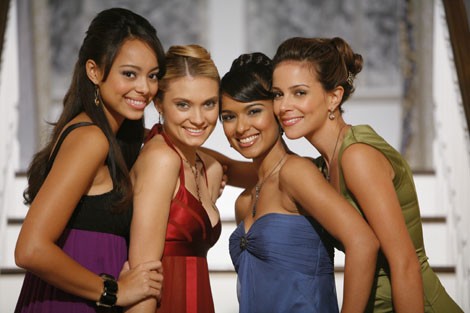 Image © Disney
Greek airs Mondays on ABC Family.
Click here to follow @Starpulse on Twitter!
Story/Interview by
Fred Topel
Starpulse contributing writer