'Sparkle': Ruth Carter on Designing Costumes for Cee Lo Green and More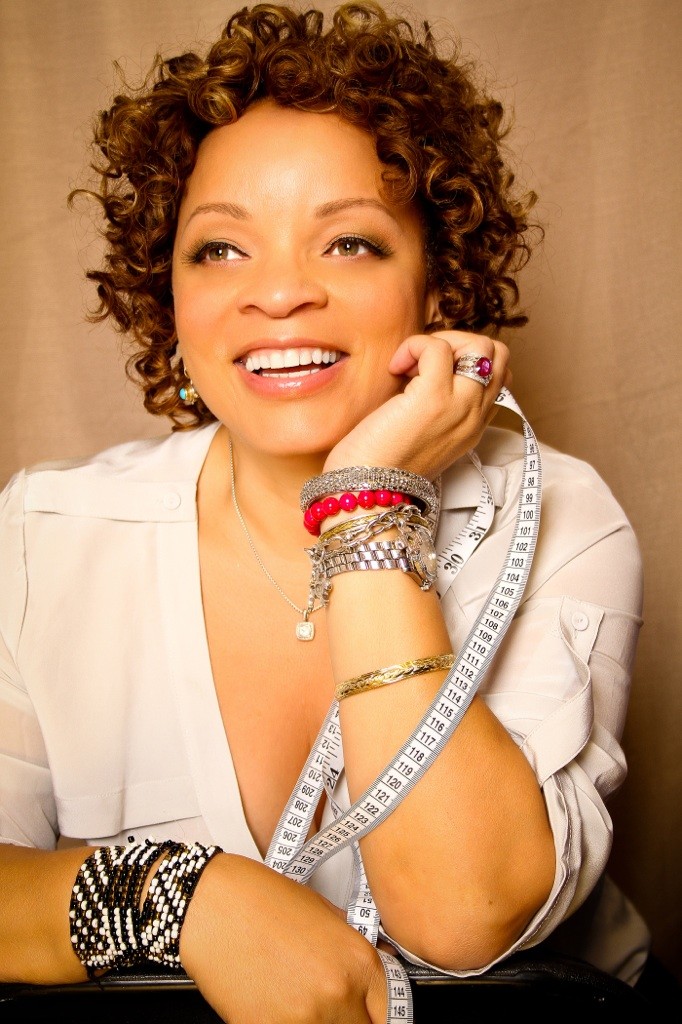 Sparkle arrives in theaters today, and two-time Academy Award-nominated costume designer Ruth Carter is the woman responsible for the styles you'll see on the likes of Jordin Sparks and Whitney Houston. She recently spoke with me about what goes into costume design, her next big project, and what it's like to design for someone as unique as Cee Lo Green.
"The actual career description for costume design could possibly be worded as a person who is hired by a director, production company or studio to create/design or recreate/redesign wardrobe for theater, a feature film, television show or video," she said. "That's the best formal description I can give you.  However, how each individual costume designer defines their job is different.  Each costume designer is different."
She also explained that costume design is not a simple or short process. "The steps I take when designing costumes for a character at first become an exploration," she continued. "After reading a script, it's pretty clear generally what type of person you are designing for.  That's when I seek out every image possible to support my impression of character.  Somewhat a collage of images, mostly people, a lot of fashion tear sheets and research.  Research comes from fashion history, photographic history, family photos, anything and everything. 
"Then, once I know who is playing the role, I further my exploration process by combining the research with the individual.  This means that I have to consider body type and other attributes of the actual person or actor.  Soon thereafter, a consultation is set up where the sketches are presented and if there are pieces available to try on, it is done at this time. 
"The actors always come to me with ideas, opinions, thoughts, and some actually don't mind - and would rather - that you take the lead on what their character wears.  Some are actually aware that composition is involved in costume design. And as we all can imagine, there are those actors who want to make all the decisions.  Those types aren't many."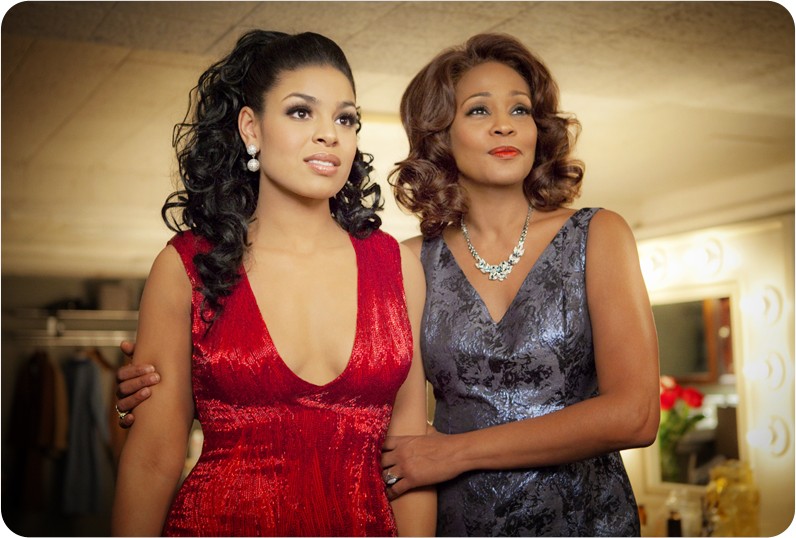 With Sparkle, a remake of the 1976 film of the same name, Carter was designing 1960's-era wardrobe for a cast including Jordin Sparks (in her feature film debut), Derek Luke, and the late Whitney Houston (pictured with Sparks above). She was also working with The Voice coach Cee Lo Green, who is known for his distinctive personal taste. What was it like styling for a man who already has plenty of style?
"I was familiar with his signature red and his unique style," Carter told me, "and since he was playing a singer in an old Detroit nightclub, I knew his red would fit in just perfect.  I heard that he wanted to wear a 'conk,' which is a style of straightening your hair for men in the 60's a la James Brown.  Based on that fact I chose a fabric that was a shark skin, iridescent fabric.  When Cee Lo arrived, I presented the ideas and he walked right into it.  The one thing he asked for was a black shirt with ruffles, and that combined with the black lapels was perfect."
What was her favorite design from the film? "We combined jewels to make into fabric on one set of stage dresses that were modeled after Donyale Luna, a Detroit-born super model of the sixties," she said. "It was a costume I awaited anxiously to be finished and worn.  I think everyone was awaiting their reveal, because people who came by to see our costume shop were intrigued by their beauty during the construction process."
In the future, Ruth would love to design for a pair of popular singers: Pink and Lady Gaga. Her next project, however, is the Lee Daniels-directed film The Butler. "It's thrilling to say the least," she told me. "From Forest Whitaker to Oprah Winfrey to Minka Kelly and Vanessa Redgrave, I am honored to be in the position to design for them, and each and every one has shown a level of professional behavior that makes them part of a very special level of actors."
Although Carter's been nominated for two Academy Awards for her work on 1992's Malcolm X and 1997's Amistad, you might be surprised to know that doesn't necessarily translate into a perfect personal style. "I don't shop for myself that often," she said. "I sometimes take trips to fashion boutiques to look around.  I'm a walk-in window shopper."
Sparkle opens in theaters today.
For more from Brittany Frederick, visit my Starpulse writer page and follow me on Twitter (@tvbrittanyf).
(c)2012 Brittany Frederick/Digital Airwaves. Appears at Starpulse with permission. All rights reserved. No reproduction permitted.