Spanish Village Goes Blue For 'Smurfs' Premiere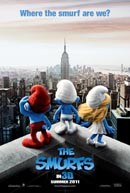 A Spanish village has been painted blue for the upcoming world premiere of The Smurfs In 3D.

Sony executives randomly chose Juzcar, near Malaga, as the site of the upcoming premiere and locals agreed to let them color the village blue.

Film bosses have promised to repaint the village after the premiere, but reports suggest locals like the blue hue.

One resident says, "We like the idea of being the Smurf village. Everyone is very excited, children are wearing Smurf hats."

The film, which features Hank Azaria and Neil Patrick Harris and the voices of Katy Perry, Alan Cumming, George Lopez and top chef Wolfgang Puck, opens in America on July 29.