'Space Chimps' Blasts Off To DVD & Blu-ray Nov. 25; Win It!

From one of the primates that produced
Shrek
comes
Space Chimps
, a side-splitting intergalactic CGI animated comedy from Vanguard Animation (
Valiant
,
Happily N'Ever After
), rocketing onto DVD and Blu-ray Disc (BD) on November 25th from Twentieth Century Fox Home Entertainment and Starz Media. A chimp-errific hilarious adventure that is "delightful from beginning to end" (
Roger Ebert
,
Chicago Sun-Times
),
Space Chimps
centers on the story of Ham III, the grandson of the first chimpanzee in space, who is recruited to join two NASA chimps, the fearless Lieutenant Luna and the uptight Titan, on an important mission to retrieve a wayward craft. However, things get a little hairy when they find out that they were sent on a space ship with no plans to return to earth. Ham III has to muster the courage and channel his inner chimp to get them home, while saving the peaceful inhabitants of a distant planet from their evil dictator.
High-flying fun for all ages that was honored with the Film Advisory Board Award of Excellence and the Dove Seal of Approval,
Space Chimps
was produced by John H. Williams (the
Shrek
trilogy) and
Barry Sonnenfeld
(
Men In Black
) and features an all-star voice cast including
Andy Samberg
("
Saturday Night Live
"),
Cheryl Hines
("
Curb Your Enthusiasm
"),
Stanley Tucci
(
The Devil Wears Prada
),
Jeff Daniels
(
Dumb & Dumber
),
Jane Lynch
(
Alvin and the Chipmunks
),
Patrick Warburton
("
Rules of Engagement
") and
Kristin Chenoweth
("
Pushing Daisies
").
The
Space Chimps
DVD is filled with bonus features the whole family will go bananas over, including a behind-the-scenes casting session, still gallery and more, plus the Blu-ray Disc includes a fun-filled BD-exclusive space-themed trivia track!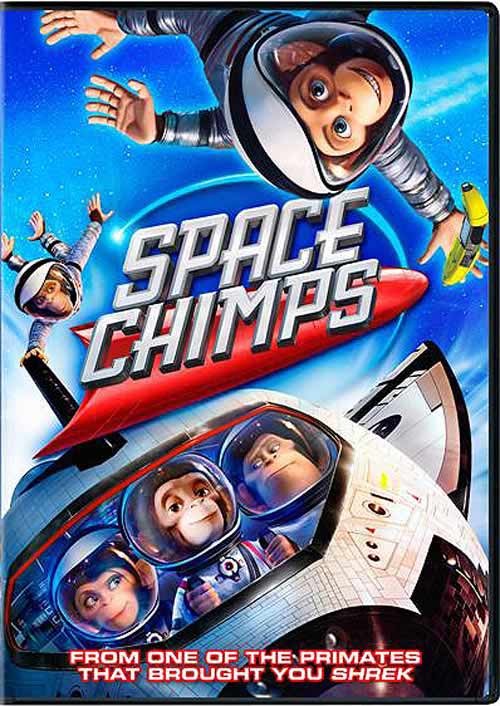 DVD Specs:
The
Space Chimps
DVD release is presented on a flipper disc in both widescreen (2.35:1 aspect ratio) and full screen (1.33:1 aspect ratio) formats with English 5.1 Dolby Digital and Spanish/French Dolby Surround audio with English and Spanish subtitles. DVD bonus features will include:
- Fox Movie Channel Presents Casting Session featurette
- Still Gallery
- TV Spots
Circus monkey Ham III (Samberg) works in a circus where he's regularly shot from a canon but he still lives in the shadow of his father's legacy (Ham I was the first chimp shot into space in 1961). A natural born rebel against authority, Ham the third is initially reluctant to go on a dangerous space mission to rescue a lost space probe, but away he goes, for lots of RIGHT STUFF-style astro-training alongside two highly prepared chimps, Luna and Titan (Hines and Warburton). NASA's by-the-book methods jar with Ham's mischief-making of course, but once the space training ends, the mission begins, with myriad dangers along the way, including: a big-toothed monster and a run amok alien named Zartog (Daniels) whose harnessed the previous space probe for world-domination purposes, all good opportunities for Ham III to redeem himself. Despite all the fangs, parents shouldn't worry too much; not a hair on any chimp is seriously singed, and along the pratfall strewn way there's time for lessons about responsibility and realization of one's full potential. While the animation here is not quite up to Pixar level, it's still pretty and colorful, with a pleasing Candyland quality to the alien planet surface. Samberg brings a savvy zest to his vocal duties as the Ham, Stanley Tucci is a nefarious senator and--getting big laughs with flawlessly deadpan elan--Patrick Breen as one of the trio of egghead scientists. Kird De Micco directed; based on the computer video game.
-
Enter here for your chance to win one of five copies of "Space Chimps"!