'Southland: The Complete Second, Third and Fourth Seasons' Now on DVD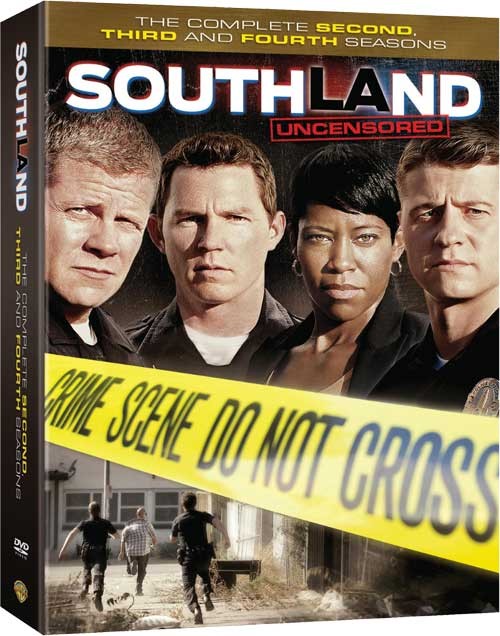 Three years after the retail release of Southland's first season, Warner Home Video has brought the series' second, third and fourth seasons to fans in one combined package this week.
This marks the third DVD release for the critically acclaimed TNT series. Season one was followed the next year by season two, which was only available through Warner's manufacture-on-demand program at WBShop.com and Amazon.com. This new set is the first in-store release for season two, and fans' first chance to own seasons three and four. (So far, there is no word on season three or four being released separately.)
Early criticism of this set has called the inclusion of season two a forced double-dip for Southland fans who had purchased the previous MOD release. The comment isn't necessarily fair. If one removes the 6 episodes of season two from this collection, fans are paying $40 for the 20 episodes of seasons three and four - or $2 an episode, roughly what they would spend if they bought seasons three and four via an on-demand service like iTunes. Financially, you're paying for the two later seasons, with the second basically amounting to an added bonus. And for the fans who didn't buy the MOD set, you get everything in one convenient package.
If there's anything to gripe about, it's that there's hardly any new content on this set. All the major special features were previously included on that MOD set - a "crime map" revisiting shooting locations, a cast/crew featurette, and a handful of scene commentaries. The only extra included that covers season three and four is the selection of deleted scenes. The bonuses are worthwhile views that give a sense of Southland's strong connection to Los Angeles - which is great if you haven't seen them before, but also disappointing because that makes you wish for some fresher material, particularly since some of the show's best episodes came in seasons three and four.
Essentially, the reason to own this set is to have the complete series to date in your collection, and in that sense this set delivers - both in the quality of the episodes themselves and their transfers to DVD. Southland has continued to get better with every season, and to go into too many specifics would spoil the ride. One of the highlights is the near-perfect episode "Code 4," the ending of which will stay with you longer after the credits roll. Things look and sound good on DVD, comparable to the show's HD broadcast. It's not demo disc quality, but it will satisfy fans. The set comes with an English audio track and subtitles in both English and French.
Is this set worth the buy? Absolutely. While it may not be the best TV on DVD release ever made, this six-disc collection delivers where it counts: the series itself. Given that the show in question is Southland, one of TV's best cop shows in a long time, there's no reason not to add this one to your shelf - if only to enjoy a series that everyone ought to watch at least once in their lifetime.
You can order your copy of Southland: The Complete Second, Third and Fourth Seasons by clicking this link. New episodes of Southland return to TNT next Wednesday, February 13.
For more from Brittany Frederick, visit my official website and follow me on Twitter (@tvbrittanyf).
(c)2013 Brittany Frederick. Appears at Starpulse with permission. All rights reserved. No reproduction permitted.