'Southland' 3.01 'Let It Snow' Advance Review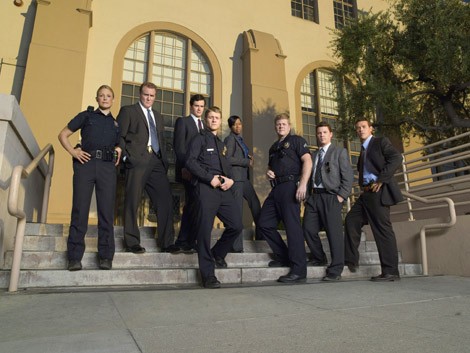 Here's a way to start off a new year of TV viewing: TNT brings back the acclaimed cop drama Southland for its third season tomorrow night at 10 PM. Season three is the longest that the show has seen yet (ten episodes, up from seven in season one and eight in season two), and it's been highly anticipated (not to mention heavily promoted). Is it worth it?
You bet.
The characters haven't gone stagnant in the time between seasons; in fact, they've all got new problems to deal with. Lydia (Regina King, still criminally underrated) has a new and somewhat reckless partner, Josie Ochoa (guest star Jenny Gago). Our introduction to Josie is her taking Lydia along for the ride during a high-speed pursuit. Sammy (Shawn Hatosy) still has issues with his wife, and Cooper's (Michael Cudlitz) back is aggravating him even more. Yet as messed up as they are, that doesn't stop all of these cops from doing their jobs without complaint, a dedication most of us don't possess. That's what makes them worth watching - they may have all sorts of problems but they're still always there to help us solve ours.
Southland continues to intertwine storylines with relative ease. Cooper and Sherman (Ben McKenzie) respond to a woman's fears that her mother may be missing, and a quick search leads Cooper to call in Lydia and Ochoa to handle the case. They're soon back on the streets responding to other calls, while Sammy and Nate (Kevin Alejandro) deal with two bodies found under a freeway overpass. All of the stories get their fair share of screen time, with none of them being treated as more important than any of the others, and all of them easy to follow along with even as the episode moves from one to the next. Yet, because this is Southland, they're also messy; just because the storylines of the week may reach conclusions doesn't mean our characters get neat and happy endings. One faces a tough reality, one makes a choice I'd call questionable, and another gets an unexpected surprise.
All the actors are back in fine form here, with a pair of minor appearances by Tom Everett Scott and Arija Bareikis. Michael Cudlitz still gets the joy of saying what we're all thinking but don't have the courage to (or have the censor not to) say, and plays well off Ben McKenzie, whose Sherman has matured to become almost an equal to Cooper. For all the noise made about the show's content, this is a pretty tame episode; I counted only a handful of profanities, with the rest of the show no worse than anything I'd see on Law & Order. While I'm on that subject, the pairing of Shawn Hatosy and Kevin Alejandro would outdo the detective duo on Law & Order: Los Angeles any day. No offense intended to the actors on that series, but Hatosy and Alejandro simply walk, talk and feel like real LAPD detectives.
I can't help but compare Southland to one of my favorite series, Third Watch, because two of the producers from Third Watch are now on Southland (John Wells and Christopher Chulack). What I loved most about Third Watch was that it created characters I got to know, and when I got to know them, I fell in love with them. I stuck by them through poor decisions and bad days. Southland has that same feel to it. While the cases are interesting, they're not the real point. The story lies in these cops and what they go through in order to make our lives better, while getting little back in return. This episode reminds us why we care about all of them, and also that they've still got a long way to go. It makes me want to keep going right along with them.
"Let It Snow" premieres tomorrow, January 4, at 10 PM ET/PT on TNT. While you're waiting, stop and check out our interviews with series stars Michael Cudlitz and Ben McKenzie and Regina King.