'South Park' Rips On Kanye West And Kim Kardashian In An Epic Season Finale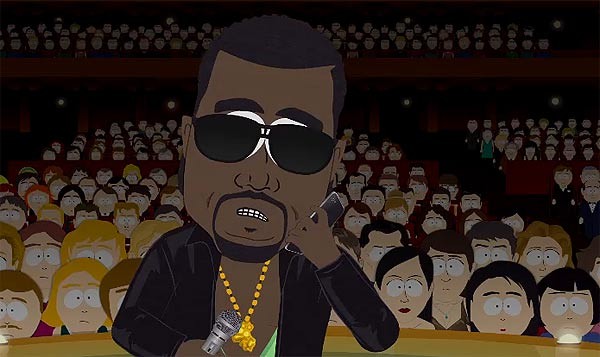 Just in time for this week's release of the second film in Peter Jackson "Hobbit" trilogy, The Hobbit: The Desolation Of Smaug, Comedy Central's hit animated series South Park poked fun at Kanye West and Kim Kardashian during it's season finale episode Wednesday night.

What does that have to do with hobbits, you ask? Well, according to at least one kid in South Park, Kim Kardashian is a hobbit.

Show creators Trey Parker and Matt Stone came up with one for the ages, in which Butters tells friends that he isn't interested in dating a classmate because she's overweight.

His comments anger Wendy, who confronts him by his locker to ask him why he would pick on her body type.

Butters proceeds to tell her that Kim Kardashian is his ideal woman.

"Kim Kardashian is skinny and she just had a baby..." he says. "I'm sorry, Wendy, but I have a different standard when it comes to my women... I want a woman who takes care of herself and knows how to look good. Who's got perfect skin, and no splotches on her legs, and perfect everything."

Part of that joke, of course, is that Kim suffers from psoriasis, and she's often been photographed with "splotches on her legs" and even discussed it on her reality show.

"You ever heard of Photoshop?" Wendy then asks. "Kim Kardashian is a short overweight woman who manipulates her image and makes average girls feel horrible about themselves... In real life, Kim Kardashian has the body of a Hobbit!"

Wendy attempted to get Butters in trouble with the school counselor, Mr. Mackey, but Butters turned things around on her and got her in trouble for picking on Kardashian's body type and referring to her as a Hobbit.

Kanye West then appears and attempts to convince everyone that she's not a character from J.R.R. Tolkein's "Lord of the Rings" books.

Watch the full episode at SouthParkStudios.com.