'South Park' Returns March 17; Season 13 On DVD & Blu-ray March 16

Last season the boys were haunted by dead celebrities, stood up to Harley riders, took a stand against the Japanese to save the whales and Butters became a pimp. Now, the foul-mouthed fourth-graders of "South Park" return for more shenanigans! Kicking off its 14th season, "South Park," winner of the 2009 Primetime Emmy® Award, returns with seven all-new episodes beginning Wednesday, March 17 at 10:00 p.m. ET/PT on Comedy Central. The series also reaches a milestone on Wednesday, April 14, by celebrating its 200th episode.

On Tuesday, March 16, "South Park: The Complete Thirteenth Season Uncensored" DVD and Blu-Ray will be released nationwide by Comedy Central Home Entertainment and Paramount Home Entertainment. For the first time ever, the DVD and Blu-Ray will include exclusive deleted scenes and the bonus features include "Inside Xbox: A Behind-the-Scenes Tour of South Park Studios" and free codes to unlock character and challenge levels in the "South Park: Let's Go Tower Defense Play" game on xBox Live Arcade. Episodes on the DVD version will be presented in widescreen format and the Blu-Ray version will be in full HD (1080p).

The all-new episodes from this season are available in HD exclusively on xBox Live, iTunes, Sony Playstation Network, Amazon Video On Demand and are also available on SouthParkStudios.com.

Launched in 1997, "South Park," now in its 14th season, remains the highest-rated series on Comedy Central. "South Park" repeats Wednesdays at 12:00 a.m., Thursdays at 9:30 p.m. and Fridays at 8:30 p.m.

Co-creators Trey Parker and Matt Stone are executive producers, along with Anne Garefino, of the Emmy and Peabody Award-winning "South Park." Frank C. Agnone II is the supervising producer. Eric Stough, Adrien Beard, Bruce Howell, Vernon Chatman, Bill Hader and Erica Rivinoja are producers. "South Park's" Web site is southparkstudios.com.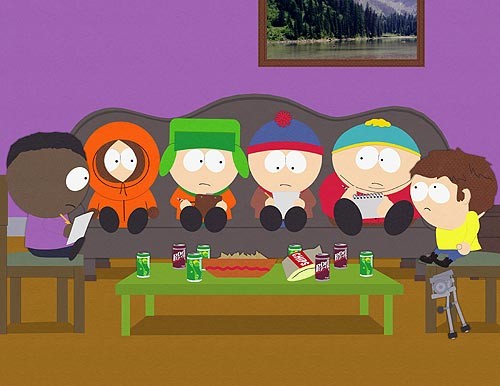 Click for more great "South Park" pictures: