'South Park' Creator Matt Stone Surprised By Mormon Musical's Reception

South Park creator Matt Stone is pleasantly surprised by the positive response he's received from Mormons for his new Broadway musical comedy, which was inspired by the religion.

Stone and his writing partner Trey Parker teamed up with Avenue Q creator Robert Lopez for The Book of Mormon, which centers around two young Mormon missionaries who are sent to Uganda to promote the faith.
 
The director admits he expected some Mormons to be offended by the cheeky show, but the production has been warmly received by audience members since opening for previews last month  - even by those who practice Mormonism.

He says, "At the first preview, afterwards we had a little party and a few Mormons came up to me who were at the show and they walked up and said, 'We're Mormons, we were at the show', so my first reaction was (to duck), but no, they loved it! And we just got a review of sorts which was in a newspaper which said it was 'sweet', which has never really happened before!"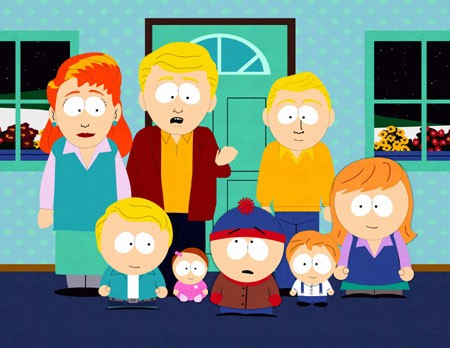 Click Here For More South Park Pictures