Soulja Boy's New Ab Tattoo; Bonus Shirtless Twitter Picture Tribute

Soulja Boy
's seemingly never ending quest for outrageous bling and tattoos led the rapper to get a new tat. And this time it's on his previously uninked, and highly lusted after, six-pack abs! Pics and a tribute to shirtless Soulja Boy below...
Well known for his love of tats and bling, Soulja Boy combined the two and got himself inked with the same logo he has on a chain. The graphic features the globe with the words "The World Is Yours" around it.
The 19-year-old posted photos of his new ink on his Twitter. In the images (below) you can see the new tat and the chain hanging together, as well as get a glimpse of some other new abdominal ink.
Fans love Soulja Boy's ripped abs and he often obliges their desires by posting photos of himself without his shirt to Twitter. We're interested to see how his fans will react to him inking up his previously clean stomach.
Check out pictures of the new skin art below and
keep scrolling for the Starpulse Photo Tribute to Soulja Boy Shirtless! Be sure you let us know what you think in the Comments!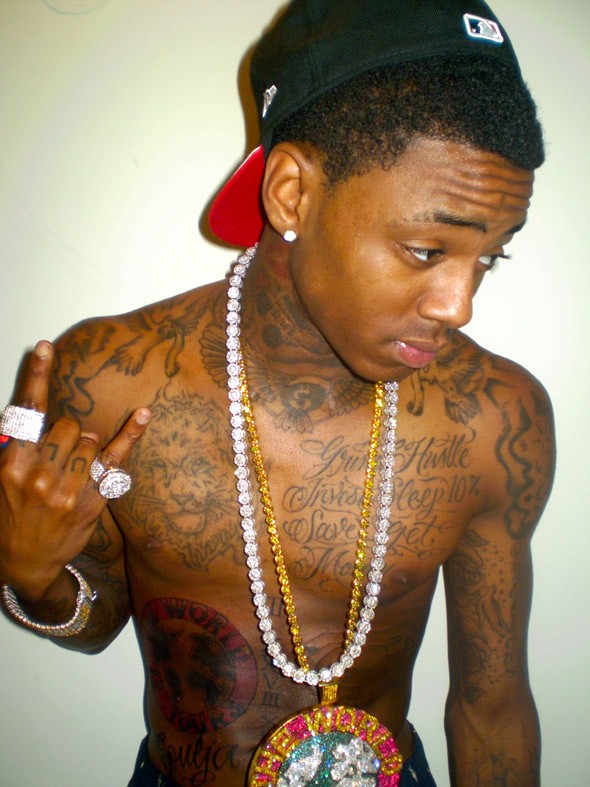 Close-up of new tattoo: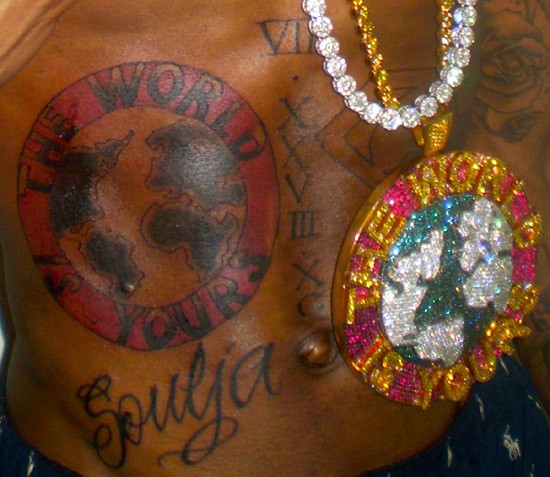 Our favorite sexy shirtless Soulja Boy pictures - Click thumbs for full size!








More Soulja Boy hottness:
Soulja Boy's $250,000 Remote Control Lamborghini Chain (Pics & Video)
Chris Brown & Soulja Boy Collaborate
Soulja Boy Is Shirtless & Happy To See Us In Twitter Pic
Hot Guys Slideshow: Sexy Hip-Hop Abs & Six Packs(Don't miss this one!)

Follow @Starpulse and @Souljaboytellem on Twitter!