'Sons Of Anarchy' Stars Host Sons For Sandy Benefit, Discuss Possible Spinoff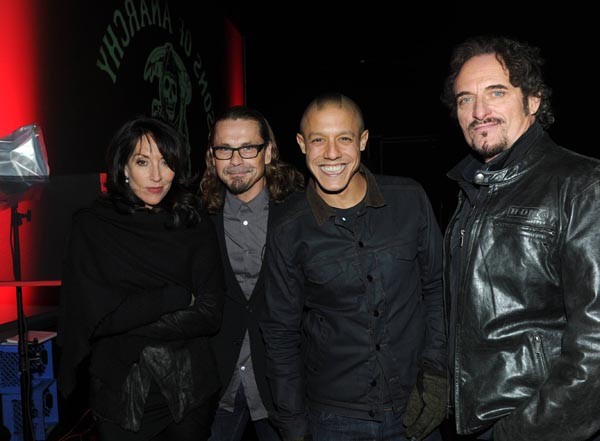 Sons of Anarchy creator Kurt Sutter, along with stars Katey Sagal, Theo Rossi and Kim Coates, visited Asbury Park, N.J. on Sunday for the Sons for Sandy Relief event. Fans of the show who purchased tickets were treated to an advanced screening of Tuesday's episode, a Q&A session with the cast and an intimate musical performance by Katey Sagal.
The benefit event evolved from a fan challenge, one of many regularly set up by Sutter to engage viewers. "We were trying to figure out where we were going to do it," said Sutter. "I know Theo Rossi has been very active in Hurricane Sandy relief in Staten Island with Staten Strong and I'm from Jersey, so I thought maybe this was an opportunity to go to my hometown and sort of combine our fan challenge victory with a way to do service for the state and South Jersey."
Theo Rossi, a Staten Island native, co-founded Staten Strong with Mike Burke. This Sunday's event raised over $66,000 for the Hurricane Sandy New Jersey Relief Fund and Staten Strong.
The show is slated to end after season 7, but a prequel spinoff series may be in the works down the line. Sutter teased that he has a "1960s, post-Vietnam" idea about the emergence of the club in mind, which he's already discussed with the network.
See below and click through for more pictures from the event. Would you watch a SAMCRO prequel series?