'Sons Of Anarchy' Creator Rants On Twitter Over Emmys Snub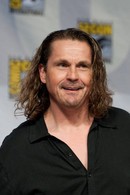 Sons Of Anarchy creator Kurt Sutter has lashed out at Primetime Emmy Awards voters after his show missed out in all the major categories when the nominations were announced on Thursday.

Award organizers released the list of potential winners for this year's Emmys, with hit TV show Mad Men leading the pack with 19 nominations. One program absent from the list is Sutter's gritty drama Sons of Anarchy, and the writer is fuming about the snub.
 
In a post on Twitter.com, he writes, "Best part of not getting an emmy nod. now i don't have to pretend i give a s**t about the profiteering d-bag academy. because you know if we were nominated i'd be all humble and blowing smoke up their asses. now i can stay true to myself and just be a d**k."
 
"If my mom and dad were alive this emmy snub would kill them. that's not true, they were too old to understand my show. just like the academy."
 
And Sutter also slammed the cast of hit musical show Glee, which gained a nod in the Outstanding Comedy Series category.

He adds, "F**k glee. Hate those annoying, 'please accept me for who i am', singing brats. there, i said it. are you happy?"