'Son Of God' Is The First Of Many Bible-Based Films In 2014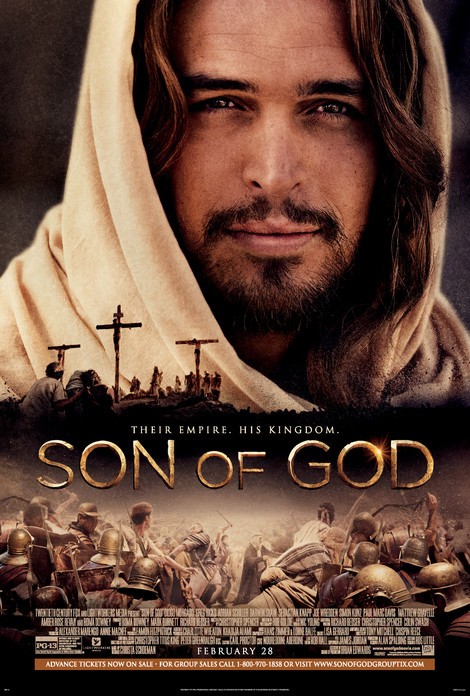 Actress Roma Downey and her producer husband Mark Burnett have taken the success of their 2013 History Channel miniseries "The Bible" and spun off a feature film focusing on the life of Jesus Christ with Son of God, which opens in theaters today.

The couple produced the film, which stars Diogo Morgado reprising the role of Jesus from the miniseries, and are expecting it to reach millions of viewers just like their miniseries, which over 100 million people watched.

"I feel that each step of the way, we've just heard a whisper in our hearts," Downey told Carole Mikita of Utah's KSL.com.

"Families are hungry for hope and they're hungry for good stories," Downey added. "They're hungry for things that they can go and see together. That's why it was important for Mark and I to get a PG-13 rating on 'Son of God.'"

But "Son Of God" isn't the only Biblical film that will be hitting theaters in 2014.

Russell Crowe takes the title role in Noah, out next month, which tells the story of the Great Flood; and Christian Bale stars as Moses in Ridley Scott's Exodus, a retelling of Cecil B. DeMille's classic "The Ten Commandments."

This April Greg Kinnear stars in "Heaven Is For Real," which, while not a biblical film, tells the true story of a little boy's out-of-body experience during an emergency appendectomy. The film is based on the book "Heaven is for Real: A Little Boy's Astounding Story of His Trip to Heaven and Back" by Todd Burpo.

Lastly, Ben Kingsley, Julia Ormond and the late Peter O'Toole star in the tentatively titled "Mary, Mother of Christ," which chronicles the Virgin Mary's life. The film was due this Christmas, but has reportedly been pushed back to Easter 2015.