Solo Artists: Most Underrated And Overrated

In one week, "
American Idol
" will add one more solo artist to the music history.
Whoever it is, they have their work cut out for them. America has a penchant for producing legendary solo artists. People like
Bob Dylan
,
Bruce Springsteen
and
Marvin Gaye
all came from America. Britain may have the monopoly on bands with the likes of
The Beatles
,
The Who
, and
The Rolling Stones
, but our sense of Independence has allowed us to produce the best solo acts of all time.
Still, some of these solo artists have received glowing reviews when completely unwarranted. Others have been nearly deified when all they were nothing more than pretty good musicians and some were forgotten completely despite impressive careers that should have seen them remembered as legends.
The following is a list of the most
underrated
and
overrated
solo artists of all time, with a few non-Americans thrown in for good measure.
Underrated:

5. Rakim
Those in the know consider Rakim to be the most gifted MC ever to put his lips behind a mic. The vast majority of the mainstream, however, have never even heard of him. This is a real shame, because he is perhaps the most influential rapper of all time. His work with the
Eric B.
remains essential listening for any young artist, and became legendary mostly because of Rakim's skills on the mic. Rakim was the man who introduced many of the complex rhymes and lyrics that would come to dominate hip-hop in his wake, departing from the simple lyrics of his predecessors. It's easy to see how he became underrated as a solo artist: He's only released two albums on his own, and the last one dropped in 1999. Since that time, he's been blowing up the concert scene and adding memorable track after memorable track as a guest artist and soundtrack contributor. He may have started in a duo, but the success and acclaim of his earlier work was mainly due to him, and he certainly deserves to be more than a footnote in the minds of modern-day rap fans.

4. Peter Gabriel
How many classic songs does a guy have to record to get a little respect? Gabriel gave the world the movie trailer stander "Solsbury Hill" and the staple of any mix-tape "In Your Eyes". In addition to that, he scored some massive pop hits with "Sledgehammer" and "Steam" and was one of the first artists to use the music video as an art form. His album "So" remains a landmark for sophisticated pop, with its South African-influenced Motown sound mixed with the New Wave of the time. Gabries is often a bit too avant garde to appeal to the mainstream, but he certainly deserves to at least be considered the best former member of
Genesis
.
Sledgehammer - Peter Gabriel



3. Warren Zevon
In the 70s four different piano-based rockers debuted.
Billy Joel
and
Elton John
went on to superstardom while
Jackson Browne
became the darling of the singer/songwriter movement before devolving into saccharine pop in the 1980s. Somewhere in all this confusion, the most talented member of the foursome got completely lost. Warren Zevon composed songs that sounded like they were written by a heartbroken bar singer, but had lyrics worthy of a poetry book. Nobody ever made cynicism sound so beautiful. He could be funny when he wanted to, he could tell a story, and he could make you feel his heartbreak. All this set against expertly constructed piano melodies that could rock out or feel delicate depending on the song. Zevon was a true classic who everybody forgot until his untimely death a few years ago.
Warren Zevon - Splendid Isolation



2. Otis Redding
Dying young is usually the most surefire path to becoming overrated (see below) but in the case of Otis Redding, the 1967 plane crash that claimed his life at 26 caused the soul legend to be forgotten amid the swirl of excellent music created during his era. Otis Redding is still the undisputed King of Soul despite a catalog of only about a half-dozen albums and a career that didn't really take off until after his death. Talented beyond his years, his classics like "(Sittin on) the Dock of the Bay" and "I've Been Loving You Too Long" both sound like they were recorded by world-weary bluesman near the end of his life. Unfortunately, this turned out to be half-true. Of all the musicians who died under the age of 30, Redding was the most talented, and unfortunately the least remembered.
1. Michael Jackson
Well, everybody knows the reason Jackson became so underrated. The
allegations of molestation
, the bizarre plastic surgery, and the dangling of a child named Blanket from a balcony are all going to end up superseding his sterling musical career in the memories of most. It's really a shame, because from the late-70s through early-90s there was nobody better than Michael. The dance moves, the event videos, the endless stream of huge hits and the best-selling studio album of all time are all on his musical resume, a resume that would cement him as a true legend if it were not for his personal life. There haven't been many artists who can claim a catalog even a tenth as strong as Jackson's. This is a guy who wrote and recorded classics like "Thriller", "Beat It", "Billie Jean", and "Wanna Be Startin' Somethin'", and those were all just off one album. Jackson will continue to become more and more underrated as the distance from his musical career grows and he adds more wrinkles to his bizarre personal life.
Overrated:

5. Aretha Franklin
There's no denying her voice. It's huge, it's pure, it's clean, she sounds like a soulful opera singer. Great singers, however, are a dime-a-dozen and great songwriters are priceless. Aretha's never touched a pen to paper, yet her recording's of other people's classics have long been held in a regard that make them seem like Aretha originals. Sure, she's absolutely killed a few songs, and turned Otis Redding's "Respect" from a misogynist footnote into an anthem of empowerment for women, but her career also disappeared into a black hole for the entire decade of the 70s only to re-emerge with a string of horrible 80s pop trash that made her seem like a poor woman's
Whitney Houston
. You can't doubt her vocal ability, but to call her a transcendent artist is vastly overrating her.

4. John Lennon
Lennon's overratedness applies only to his solo career. Anybody who would call his musical contributions as a member of the Beatles shouldn't be allowed to listen to music. His solo career was a bit more inconsistent. For every "Imagine" he wrote there was a
Yoko Ono
-influenced mess to nearly negate it. He produced a ton of great songs after he left the Beatles, but it's hard to say his catalog compares to the work of
Paul McCartney
and certainly not to
George Harrison
. Yet somehow, he's been raised to the nearly the status of a deity among music fans. This has a lot to do with his political activism and the belief of some that his "Give Peace a Chance" rallies actually made some sort of a difference in the shape of history. Also, his tragic death created a sort of mythical quality around him causing him to be heralded more than he deserved. For his solo career, Lennon should be remembered as a solid songwriter who never quite lived up to the promise of his previous work and not as the nearly Christ-like figure that's become so common in the memory of many.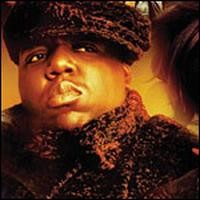 3. The Notorious B.I.G.
Like Lennon, Biggie was tragically gunned-down far before his time. Unlike Lennon, his murder is the sole reason he's been hailed as a great artist. The Notorious B.I.G. had a few nice songs that turned into club staples, but this is mostly due to the work of ace producer
Puff Daddy
whose innovative use of samples made old songs feel new again. As an MC, Biggie was very clumsy with a lazy flow and simplistic lyrics that could not match the work of his contemporaries on the West Coast. Had he not been murdered, he would have probably emerged as a poor man's
Jay-Z
(an overrated artist in his own right), a commercial gangsta with great producers to drown out his shortcomings as an MC. Instead, he's a legend in the world of Hip-Hop despite a sorely lacking skill set.

2. Bob Marley
Much like John Lennon, Bob Marley made some good music and somehow was hailed as a sort of deity after his death. A good indication was the recent performance of "I Shot the Sheriff" by Jason Castro on "American Idol" that led Simon to remark, "You just don't do Bob Marley." Why not? What was Bob Marley but a good time dude who made some fun, laid-back tunes to listen to at the beach? His deeper cuts did reveal a political fire burning within, but essentially he was a rich man's
Jimmy Buffet
with his most well-known songs being "One Love" and a cover of "Stir It Up". Somewhere, somehow, somebody got the idea that Marley was a sort of modern-day saint, that his political songs are anthems for the oppressed and that he did more for the underprivileged than any other man of the 20th century. Well,
Bob Geldof
and
Bono
have both done a tremendous amount more that is tangible for these suffering countries than Marley ever though of. Maybe it's because he was too busy fathering 11 children with nine different women, the exact type of behavior that would brand modern-day rock stars with the type of scorn reserved for Hester Prynne. Bob Marley should be remembered as a gifted musician who created some fun tunes that sound great on the beach, and not the prophet of the third world that many critics have dubbed him.
Bob Marley - Africa Unite



1. Janis Joplin
What exactly did Janis Joplin ever do? How exactly did she come to be hailed as the pinnacle of sixties music? It's incomprehensible. Joplin did her best work with Big Brother and the Holding Company and then went solo, covered a good
Kris Kristofferson
song, sang a poem a capella, drank more whiskey than a high school football team in Alabama and died. That's it. She never did anything more than that. Other than running around half-naked in San Francisco with a bottle of Jack Daniels in her hand and screaming about this that and the other thing, her whole career fits into one sentence. Yet somehow, she's held in similar regard to
Jimi Hendrix
,
CSNY
, and other legendary acts of the sixties. It's unreal. Her career was a blip at best. Joplin would be inconsequential if it weren't for her becoming so massively overrated over time. Most cases of overratedness can be explained, but aside from her dying young, this is a complete mystery. Making her the most overrated solo artist of all time.
Check back next Friday for the most overrated and underrated HBO Shows of all time.
Note:
This article is the opinion of the author and is not necessarily that of Starpulse.com.
Story by
Andrew Payne
Starpulse contributing writer