Sofia Vergara Felt Like 'An Old Jessica Rabbit' In Sexy Silver Dress At The SAG Awards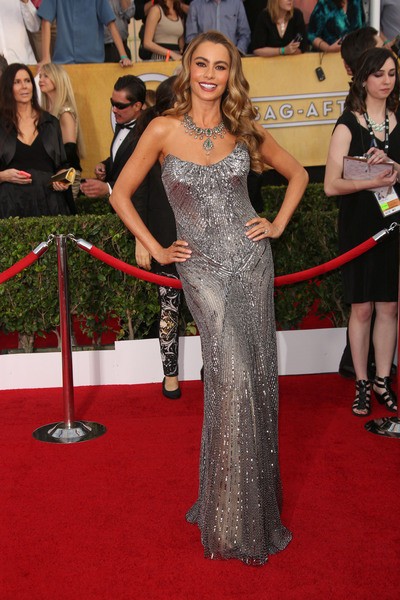 Sofia Vergara showed off her sexy curves on the red carpet Saturday night, turning lots of heads her way when she arrived at L.A.'s Shrine Auditorium for the 20th Annual Screen Actors Guild Awards.

The 41-year-old Colombian actress didn't walk away empty-handed either as her hit ABC sitcom Modern Family landed the award for Outstanding Performance by an Ensemble in a Comedy Series.
"I'm wearing Donna Karan and I feel very, like, sexy," she told E!'s red carpet co-host Guliana Ranci about her dress. "Very Jessica Rabbit. Like an old Jessica Rabbit."

While Sofia didn't land a nomination in any of the acting categories, co-stars Julie Bowen and Ty Burrell were both up for the best actor in a comedy series awards. Burrell won in the Outstanding Performance by a Male Actor in a Comedy Series category, beating the likes of Alec Baldwin ("30 Rock"), Jason Bateman ("Arrested Development"), Don Cheadle ("House of Lies") and Jim Parsons ("The Big Bang Theory").
Check out the full list of winners from the SAG Awards right here.