'So You Think You Can Dance': Top 8 Perform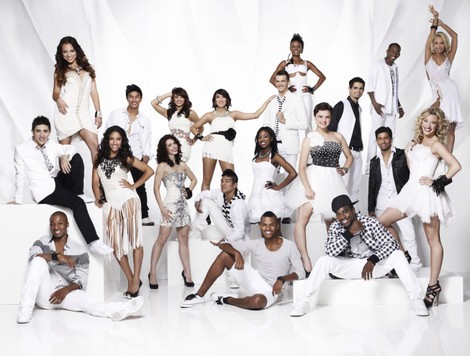 This week on "So You Think You Can Dance" the remaining eight dancers performed a solo in their own style and a dance with an All Star partner.
Joining head judge and executive producer Nigel Lythgoe and judge Mary Murphy at the judging table this week was actor Jess Tyler Ferguson.
Whitney and Twitch performed a Luther Brown Hip-Hop routine that judges called spectacular, brilliant, and fantastic.
Cole and Alison took on a Sonya Teyeh Contemporary routine that was deemed demonic, intense and creepy but powerful, gorgeous, and memorable.
Eliana and Ryan performed a Quickstep choreographed by Jonathan Roberts that had the judges cheering and calling it fantastic, and spectacular.  Nigel said it was the best ballroom he had seen from a non ballroom dancer.
Lindsay and Alex performed a Sonya Teyeh Jazz routine that Nigel said had terrific choreography and tremendous technique but the judges did not feel the connection between the dancers.
Will and Lauren performed a Christopher Scott Hip-Hop routine that the judges loved.
Cyrus and season eight winner Melanie performed a Mandy Moore Jazz routine.  The judges all noted how each week Cyrus – an animator – is always out of his style but brings charisma to the dance floor.  Nigel called the routine Fosseesque.
Chehon and Anya performed a Tango that earned a standing ovation from the judges and host Cat Deely called spellbinding.  Mary – a Ballroom expert – said it was her favorite dance of the night.
The final performance of the night was from Tiffany and Ade with a Mandy Moore Contemporary routine to the Celine Dion hit "Power of Love".  After a standing ovation the judges called the performance fantastic, extraordinary, and beautifully done.
After all the performances host Cat Deely revealed that Whitney, Lindsay, Will, and Cole were in the bottom and were facing elimination.
The judges saved Whitney and Cole which meant that Lindsay and Will would be going home.
This week was the last time the judges would have a say in which dancers would be eliminated, next week it will all be up to the fan votes.