'So You Think You Can Dance': The Final Four Dance Recap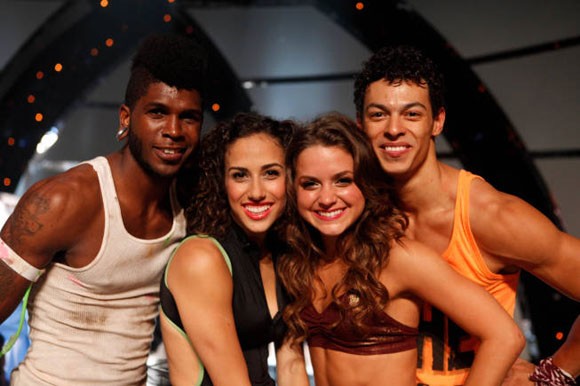 It's the performance finale on "So You Think You Can Dance" and the remaining four dancers must perform six dances – a solo, a group dance, a dance with an All Star, and three dances with their fellow competitors – and all in two hours.
Joining judges Nigel Lythgoe and Mary Murphy as guest judge this week was choreographer, director, and producer Rob Marshall.
Eliana and Cyrus paired up again for a role reversing Paso Doble that the judges called magical, fabulous, and amzing.
Tiffany and All Star Will performed a Sonya Tayeh routine  that the judges loved; saying Tiffany had such expression and extension in her dance.
Eliana and Chehon performed a Classical Ballet that was choreographed by a former principle dancer for the Kirov Ballet in St. Petersburg, Russia.  The judges gave the Pas de Deux from "The Nutcracker Suite" a standing ovation.  Rob called it gorgeous to watch.  Nigel never dreamed that the show would have two ballet dancers in the final four.  Mary called the performance spectacular, a triumph for the show, and a never forget moment.
Tiffany and Cyrus performed a lyrical hip-hop routine to the "Best Thing I Never Had" by Beyonce.  Nigel congratulated the pair on never being in the bottom.  Mary called it a fabulous routine and Rob said it was his favourite of the night.
The group number this week was choreographed by Tyce Diorio.  The Broadway styled piece to "Eine Kleine Nacht Musik" included several different dance styles.
Eliana performed a ballet solo.
Chehon and All Star Alison performed a Contemporary routine by Emmy nominated choreographer Stacey Tookey that brought the judges to their feet and praising not only Tookey but Chehon as well.
Tiffany and Eliana performed a routine that was Broadway meets Burlesque and was performed using a pole to a piece from "Chicago"  The judges were again on their feet and proclaimed the performance extraordinary and unbelievable.
Cyrus performed a solo that brought the judges to their feet and had Cat Deely saying Cyrus baffled and bamboozled her.
Tiffany performed her solo to "I Believe"  by Fantasia.
Chehon and Cyrus performed a Sonya Tayeh routine that the judges called tremendous and Nigel saying the boys inspired him.
The dancers took a bit of a break while guest dancer Jean Sok performed.  Jean is a dancer who has not let one missing leg stop him.
Chehon performed his solo.
Eliana and All Star Alex Wong performed a Travis Wall Contemporary routine to "Without You" by Harry Neilson.  Again the judges were on their feet at the end of the performance.  Cat said they made it look effortless.  Rob called the performance poetry, Mary said it was one of her favourite performances of the night, and Nigel said it brought all of his favourites together.
Tiffany and Chehon performed a Dmitri Chaplin Rumba to "Love Me Tender" that the judges called gorgeous, beautiful, and sexy.
The final performance of the night was from Cyrus and All Star Twitch who performed the first ever Animation routine on SYTYCD.  The performance left the crowd cheering, the judges on their feet, and Cat wanting more.  Rob called the boys two superstars.  Mary called the performance amazing, and Nigel called them world class.
Next week the winners will be revealed.