'So You Think You Can Dance' Season 7: Top 9 Perform
It just keeps rolling on. Nine dancers performed tonight. Three ladies and six men performed a solo as well as their selected routine. Finally, we got to see all the dancers in their element once again. Considering the quality of some of them, this may have been the only time we'll see their solos until the very end. Let's get into it: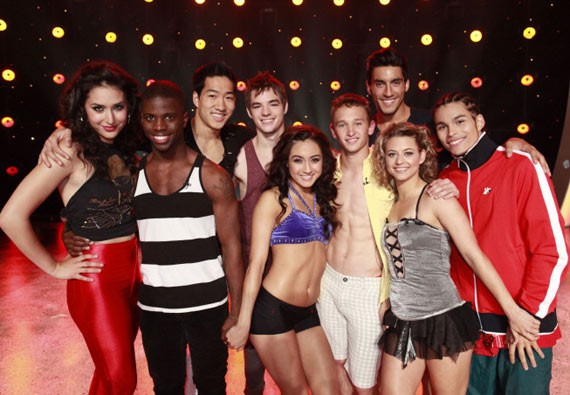 Lauren
Allstar: Neil
Style: Broadway
Flirty girl Lauren had the best pick of the routines this week. She was seducing her partner in a Broadway style – and from what we've seen of her in solos and try-outs in the past this should be no problem. If she's anything, she's a tease and flirt but lacks any vulgarity. It was a cute little dance, even if her strap broke and we almost saw boob, although this week I think her looks will get her pushed through to next week, not her moves. I do think she either stayed in her place or took a small step forward as a dancer – whereas Mia wanted a more feminine performance to match the song.
Solo: A lot of floor work with just one nice leap. Meh, not the memorable solo she'll need if she's ever in the bottom three.
Jose
Allstar: Anya
Style: Samba
Jose is a short man and it showed in this piece. He wasn't quite sensual as a male lead as he was cute (and trying hard). He needs to mature a lot but he performs the hell out of every dance. This showing would be a disappointment for a dancer with more training. For Jose, it was a step forward. He rose to the occasion and did a handicapped A effort that would've been a C+ for any other male on the show. Why is this important? He showed his versatility and ability to adapt.
Solo: A series of head spins and whipping knees set to James Brown. It didn't have the polish of other performers, but it showed his skill.
Robert
Allstar: Courtney
Style: Jazz
Robert had his shirt off the entire dance. WIN! Courtney's glittery multicolored pants were horribly distracting despite some strong choreography and good partner work. At times the slow, deliberate movements didn't pack enough of a punch but they reacted well off of each other. It wasn't my favorite piece of the night but that style of jazz was a little too sharp for my taste.
Solo: He used the music like it was written for him. I didn't dig the short shorts but he's hot so I let it slide.
Billy
Allstar: Katherine
Style: Contemporary
My favorite part had to be when Katherine used Billy to arch up from the ground, and then fall back down again. Which is saying a lot. This routine was stupid good. It had many moments of precision between the two and intense interactions. Allstar Katherine needs to be aware that she's so good at times the attention is drawn to her - which Nigel cites as something Billy needs to do himself.
Solo: This man is a rubber band. His solo was a technical assault
and remarkably fast paced. I doubt we'd have seen that in the next four weeks because he'll likely to never be in the bottom three until we're down to the wire. Nice little treat.
Ashley
Allstar: Ade
Style: Contemporary
It was nice to see Florence and The Machine get a song onto some mainstream form of pop culture. The dancing looked effortless as Ade tossed and carried Ashley around the stage. There were beautiful attitudes that she hit and held, hit in transition – basically I really liked her bent legs. The dance centered on dependency – not addiction but needing someone. It worked and seldom did Ade outshine Ashley. Contemporary always gives us the best SYTYCD routines and this was no exception.
Solo: What did I saw about her attitudes? She's got legs for days. Her turns and leaps looked perfect but the cameraman had a nice angle on her the whole time. Nothing much beyond that…unless you're into that whole booty shorts with a sparkly boustier.
Melinda
Allstar: Pasha
Style: Salsa
After nothing but weird and disappointing performances I was scared to see her dance this week. She overcame a snagged dress in the first 10 seconds quite nicely. Other than that she did not control herself well. She's just not in the same league as all other dancers. Much of the salsa was performed in her face. Compared to Allstar Pasha, she looked sloppy and amateur. They were tangled in many lifts and I couldn't tell if a leap over her head went horribly wrong or if she was supposed to have her face caught in Pasha's crotch. The judges noticed her lacked of fluidity too. Alexie shouldn't have been the first to go, although the judges think they made the wrong choice last week by sending Cristina packing. Either way, I think Melinda has been dancing on borrowed time and we won't see her after this week.
Solo: It's was like watching a robot with tap shoes on. Man, I hate tap. She peaked my interest the episode she was told she made it onto the show. From there it's been downhill.
Kent
Allstar: Alison
Style: Jazz
Kent needs to smile more. Really, he is impossible to read onstage. Oh wait…scratch that, just the opposite. This was an involved dance that saw a lot of partner connection and a focus on finishing detailed moves. There were two or three strong lifts but otherwise the relationship between the dancers took center stage. The choreography wasn't playing to his strengths since he'll always be performing to the audience – he needs to be seen as the best dancer as well as the best performer. The judges saw took much connection to the audience and warned him about that.
Solo: He looked very light onstage even if his flip could have had a beautiful layout. Like I can even do a perfect cartwheel, but that would've made his solo really shine. Although he had no outstanding moves, his goofy smile and awkward personality will make people remember – and like him.
Alex
Allstar: Twitch
Style: Hip-hop
Billy had his chance last week to get as far from his comfort zone as possible. This week it was Alex's turn. I say time and time again that SYTYCD's hip-hop is always crap, subpar, and disappointing. Last week Billy's krumping was damn entertaining. This week, despite have a straight back and dancing alongside Twitch (comparisons were made, it was impossible not to), Alex was damn GOOD. There were moments when the doubletime hit and instead of falling apart or backing down the choreography was turned up to 11. Nigel said this routine should garner an Emmy nomination, and I wouldn't be surprised if that came to pass. Do yourself a favor and YouTube it (because I'm not sure I have the rights to post it).
Solo: He chose an odd techno infused song to showcase his strength and incredible ballet skills. It was like eating a peanut butter and radish sandwich, ballet skills being the peanut butter.
Adechike
Allstar: Lauren
Style: Hip-hop
The choreography wasn't spectacular and their synch was not where it should be. That being said, Adechike was able to enjoy himself, connect with the audience, and dance more like a Kent. Allstar Lauren giggled and teased her way through the routine. Their sensibility while dancing was too fun not to like. Nigel brought up Adechike's visible confidence, which he should have after this solid performance.
Solo: He combined contemporary with the robot as far as I could tell. Guess what – it worked.
My prediction for who is gone after tomorrow night: Melinda.  We've got 24 hours to make that so…