'So You Think You Can Dance' Season 7: Melinda Eliminated, 8 Remain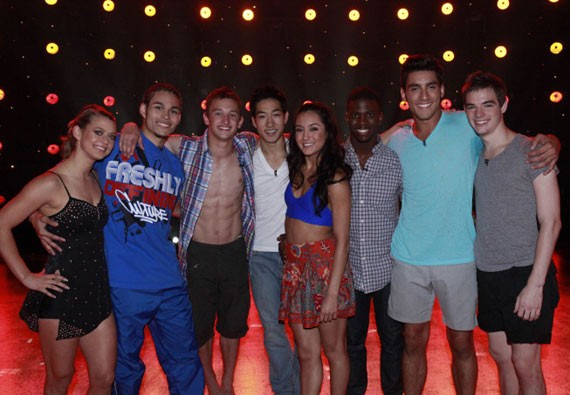 You cannot get any more dramatic in song than 'O Fortuna' from Carmina Burana. Unless you add an authentic 18th century white ruffled collar of royalty to your costume. SYTYCD did one better. The sleeved mesh on the boys put it over the top. The slow and controlled jazz/lyrical hybrid opening number was heavy on the Alex and I think Ashley. They're opening the show with more group numbers that feature soloists.  I like. Especially since we're still getting to know each remaining dancer.
Next week there's a new setup for the show. All remaining dancers will perform two routines. In one, their partner will be another contestant. In the other, it'll be an Allstar they've never danced with.  God help anyone who's paired with Melinda – if she survives tonight.
Immediately they let us know if Alex is staying or going (staying) after his wicked awesome hip-hop routine last night. They replay the majority of the dance – and Cat says she rewatched it three times. I can be just a little more obsessed – I rewatched it, rewatched the Billy Bell krump routine from two weeks ago, did another comparison, had to lie down from overstimulation of kickass dancing, and came to one conclusion: Alex > Billy. Sorry Mr. Bell, I loves me some hip-hop.
View. Memorize. Fist Pump.
The bottom three tonight include Melinda, Billy and Robert.
This show is going to make me mad given the 2/3 odds of one of my favorites being sent home. Melinda blows by comparison, and I know I learned this from my college professors that in order to be appealing to most markets you have to pander to the lowest common denominator, but come on! Melinda panders, these men dance. She's been dancing on borrowed time and needs to go. I'll hop off the soapbox now.
There's a cute retrospective on Mark and Courtney that treats us to one of their old routines – 'The Garden' which I'm sure has been redone by other dancers on this show. The producers' aim is becoming clear to me with all the focus on dancers that are already 99% perfect battling each other week after week. This show really does have the best caliber of dancers. It's a deep cast, and they don't want to muddle it with subpar performers and technical slobs. Thus, they chose to pepper the season with Allstars instead of bumping the cast up to 20. I'm a little surprised that this shook out many more talented guys than girls. Before we get to the solos, and hopeful departure of Melinda, Cirque du Soleil showcases a piece from their new Elvis show. Too bad it wasn't a piece from the Beatles show 'LOVE' instead.
Billy's solo is fragile and elegant, whipping around the stage like a frantic deer. He looks so amazing it's almost like he knows that even if he were to get booted tonight, he's still got all the elements to cement himself in the industry successfully. Robert is a cross between modern and odd with his solo. It did not do him justice at all and was worthless. Luckily Melinda is just tapping again. No music, just her tapping.  This time her gigantic smile that screams "not subtle" is missing from her face. The judges retire to decide, Ne-Yo performs, and we're at the defining moment faster than you can say "Who's Ne-Yo again?"
They kick off Melinda. Yay! I was on her team up until the actual show began. Funny how that works. Although this means the rest of the weeks will be heartbreaking because somebody I like or love will be leaving, one by one. If I survived Brandon and Jakob losing their seasons, I'll survive the next series of eliminations.