'So You Think You Can Dance' Season 7 - Lauren Wins!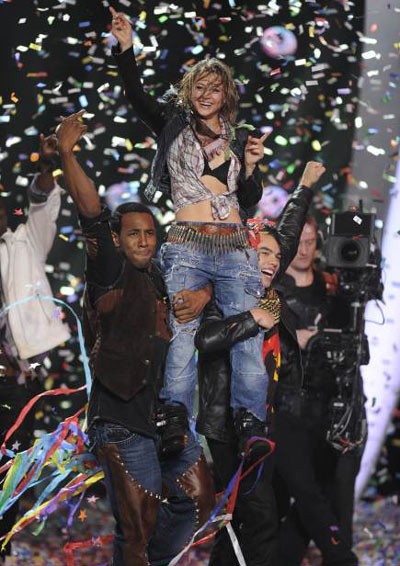 We're here. It's ending. Before we can pull the plug on two dancers' dreams we're going to sit through an intensive look at this past season whether we like it or not. Although we were served a healthy dose of Season 7 montage last night, we weren't treated to many surprises. Tonight, however, was different.
The opening number featured all top 11 and the Allstars. It was strong and dramatic jazz that had everything you want in a piece that kicks off the finale show including a cheeky little section that paid obvious tribute to the talented but injured Alex Wong. They literally wheeled him onto the stage in a roller chair to perform sharp movements with his arms for about 20 seconds with other male dancers surrounding him. Then he was pulled offstage. Hey, they included everybody. Even though it did break up the feel of the dance it was a great way to fit in the most versatile dancer this season had to offer (sorry top 3).
The panel of judges that were solely here to watch the show and act as the peanut gallery included the usuals – Nigel, Mia and Adam – plus Tyce, Kenny Ortega, Stacey Tookey (yay!) and the always annoying Mary Murphy. This is the first time Ms. Murphy has been on Season 7 much to my delight. Here's why…
Mary Murphy's absence on this season has been beneficial. Her screaming adoration for almost every dancer and routine made her the Paula Abdul of SYTYCD. She would toss coherent criticism and praise in about twice a show, but it paled in comparison to her raucous babbling. With the top 20 cut down to an excellent top 11 this season we weren't going to see as much filler and crap as before. Removing Mary Murphy from the panel of judges removed the fluff. I didn't notice it until they brought her back – and the first thing she did was scream.
To the winner go the spoils. This year those include $250,000, a showcase in a Gatorade G-Series print campaign and the cover of 'Dance Spirit' magazine. Not to mention fame and accolades from the dance community and a spot on the tour.
The two hour spectacle includes special guest performers and choice routines from this past season. Notable revisits were Kent's latest mature contemporary piece from last night, Lauren's wicked awesome hip-hop 'My Chick Bad' routine, and Travis Wall's 'Fix You' piece with Robert and Allison. One of the special guests was Charlie Bruce, the winner of 'SYTYCD UK' who performed with American Allstar Neil. The only thing I could think of when she danced with that her legs had been replaced with extra-long rubber bands. And that the voice of Celine Dion is a weapon of mass destruction.
Unexpectedly they cut the third place dancer with 40 minutes left in the show. Robert exits in a garish Bollywood outfit. Hey, at least he's pretty. I'm not surprised he was the first to go, nor do I have any idea who deserves to win at this point.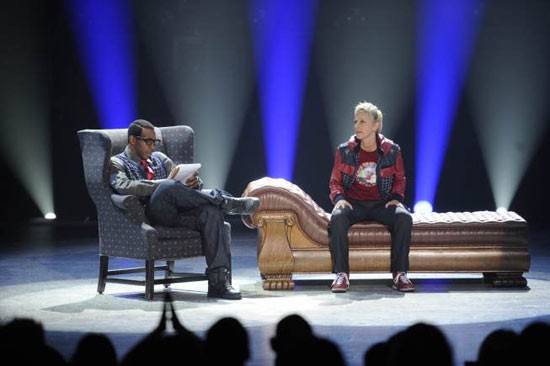 The only things missing from tonight's recap were Kent and Lauren's fantastic prom-themed piece and Alex's ridiculous hip-hop number…because they brought in Ellen DeGeneres to dance his part instead. Watch it below – very worth it. Very hilarious. Very smart to lighten the mood with it before they reveal the winner.
Lauren.
YAAAAAAAAAAAAAAAAAAAAAAAAAAAAAAAAAAAAAAAAAAAAAAAAAAAAAAAAAAAAAAAAAAAAAAY!