'So You Think You Can Dance' Season 7: 1 of 8 Voted Off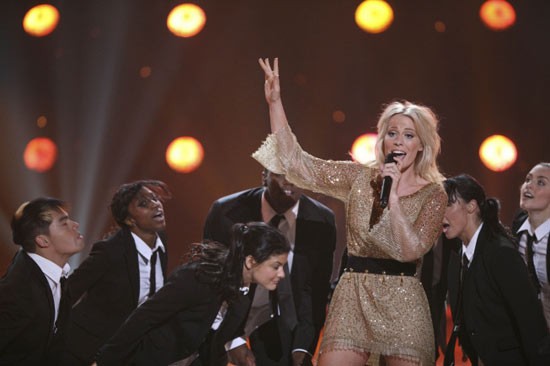 The show opened with a group number filled with fog, angels, and boys in long white skirts. Mia Michaels choreographed the routine to a slow paced Sting song. It was understated and pretty with lots of reaching and modern arms. It's then noted that SYTYCD was nominated for three Emmys today (Legacy and Katherine last season, Mia Michaels' three pieces from season 5, and the makeup crew). Woohoo. It's also noted the 'Glee' was nominated 19 times. A FOX show promoting another FOX show? How surprising. Later, they also plugged auditions for the next season of 'American Idol.'
The bottom three included Alex (due to his injury and inability to perform last night), Billy and Ashley. This seems undeserved all around. If anybody should be leaving, I'd have to pick Jose at this point. Transcending different styles be damned. He isn't as good as Legacy and definitely not Russell when it comes to growing within a season. But American votes at one point "re-elected" George Bush so anything can be overlooked in this country when it's decided by the masses.
Anya and Pasha danced together, the cast of 'In the Heights' performed (although I didn't see any microphones….as they were "singing"….and barely dancing), Billy did a lightning fast heart-wrenching solo, Ashley answered right back with her own soulful piece filled with fouettes and speed and then Natasha Bedingfield sang.
Then onto the moment of truth. The judges unanimously decide to send Alex home. He's suffered a lacerated Achilles. This, as I said in my piece last night, destroys his "season" or for those that aren't former school athletes – the next three months. The show is not something he should be thinking of with his dance career on this line. Alex is scheduled for surgery Tuesday to reattach his tendon, and a speedy recovery is wished by all. (And if you don't wish him well, your Achilles is next you jerk)
At least the last time we saw him dance it was during that stupid good hip hop number. Here's hoping everything heals perfectly for him.