'So You Think You Can Dance' Returns - What Did You Think?

"
So You Think You Can Dance
" is back, and boy is it welcome. Most of TV is now winding down and the summer does not have much to show for itself, but this program is definitely on the top of the list. Personally, it's my very favorite reality/competition program. There is something so incredibly warm and positive about this dancing show, and while performances on other shows have faded over time in my memory, there are dance routines from five years ago I can still watch and go 'whoa.' It's just so nice to have it back. I'm tearing up just like Mary Murphy, someone stop me!
Cat Deeley
introduces us to the fifth season and the auditions are underway. Much like the rest of the show, Cat is enthusiastic, friendly, and full of good energy. She dances with the waiting dancers and is everyone's BFF. It starts out in Brooklyn, New York this year. The very first dancer is a girl named Gabi who literally grew up in a circus and has arthritis. You would never know it to see her move; she does a great combo of pop and contemporary that sends her straight to Vegas. There's this weird contortionist performance with a duo called the Mutants, and they're pretty creepy but awesome. They go to choreography but clearly can't do any real dancing; that's fine, they're great at what they can do and can wow New York on the streets any time.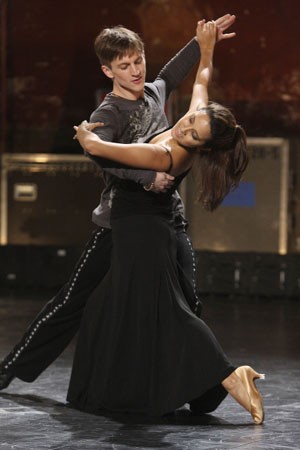 Tap dancers are always great to watch, but they rarely make it through to Vegas or even the show. Maybe Peter will be the first one, because he's got this glow about him, despite his awful work out clothes. He swears he can do other forms of dance and goes to Vegas, so we're hoping for him. Now for the hard/inspirational dancer of the day, Tiffany. She's got spinal thoracic dysplasia and has only 3 vertebrae out of 7. She's a good dancer considering all of that, but honestly it would be more condescending to put her through due to her disability than to be 'kind.' Nigel is forthright about this and about his respect for her bravery, and Tiffany is just glad that she got to show the world even "different" people can dance beautifully. Aw.
A few other highlights is the return of Faina, who kind of out dances her partner Maksim, but he manages to go through anyway. They show the usual montage of sucky dancers but luckily do not spend too much time on them, which is a relief because that's the only time this show gets too snarky for its own good. Another person to keep an eye out for is Chimezie, a hip hop dancer with personality who may be the next Twitch, but it's too early to tell.
Next they go to Denver, which has a lot less memorable auditions. The only thing about it to note is that new choreographer Sonya is the guest judge and she's replaced Mia Michaels as the resident psycho of the show. She babbles about birds and floating and drives Nigel crazy. Hee. Nigel momentarily gets annoying when he doesn't like a boy-boy dancing routine and doesn't want to alienate the audience. Yes, Nigel, because dancing is so traditionally thought of as extremely masculine and heterosexual.
The best part of Denver is that Natalie and Brandon are back. Both of them lost out to someone in Las Vegas for the last Top Twenty spot. Natalie to Katee, who was the #1 girl last year, and Brandon to Gev. This time they are both as excellent as ever and bring tears to the judges' eyes. Next week we go to two new cities, but honestly the audition process can be over already. It only gets fun in Las Vegas!
Story by
Chelsea 'Dee' Doyle
Starpulse contributing writer
Click here to follow @Starpulse on Twitter!