'So You Think You Can Dance' Part 1 Finale Recap

So this is it! The final four dancers on "
So You Think You Can Dance
" are competing for our votes and the winner will be announced soon. Can you feel the excitement? Actually last night was buzzing really fiercely with dancer love, not only because they took over the Hollywood Kodak Theater that seats 3,000 people but because Twitter became awash with only chatter about the show. People pleaded with other users to vote for their favorites and talked about the finale, so the real winner of the show? Twitter.
Anyway,
Adam Shankman
is the guest judge for the first part of the finale, and it's a great choice. He's the sweetest of the judges so if he harps on you about something, it has to be totally honest. Everyone dances with everyone for the last group of performances and then they each perform a solo. It's paced really well this time with very little BS in between, but it still feels like an enormously long show.
All four get together for a
Wade Robson
routine to
Lady Gaga
, but it didn't feel like Wade at all. He's usually very distinct, but this felt more like a Taboleon dance than one of his. It was cheerleaders and jocks, very boring for Wade. Maybe he was busy coming up with genius elsewhere and gave them something pointless.
Jeanine and Evan are the first couple with a Sonya routine. It's about a man who is trying to keep his girlfriend but she is soooo done with him. Jeanine gets to knock Evan around, and those of us who are tired of his mugging probably smiled at that. This episode actually becomes a big Evan-hate fest which will almost guarantee him the win, but more on that later. Jeanine definitely steps up her game and looks great, and the dance gets more frantic and interesting as it goes on. Adam tells them he underestimated them and never saw them in the end, but he is very happy for them. Mary liked the performance and said they delivered. Nigel warns Evan he has to try to stand out more and take over rather than let himself get beaten up for the rest of the show.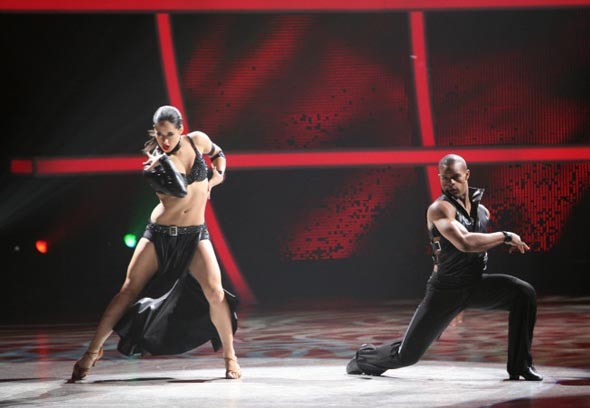 Jeanine Mason (L) and Brandon Bryant (R) perform a Paso Doble choreographed by Louis van Amstel © Fox Broadcasting Co.
Each of the dancers are spotlighted and talked to before they perform their solo. Brandon is the first one up, and I think there are few people by now who don't think he's the best dancer up there. Unfortunately it is not always about the best dancer, but rather the favorite dancer. Technically, he's just flawless. His solo is what we always expect of him, powerful and perfect, and the judges just shower him with love and praise. He deserves it though, because if you look back at the competition he's the one that has never taken a wrong step. He's always performed brilliantly. That's pretty impressive.
Kayla and Brandon are up next with a Tyce Broadway routine from the play All That Jazz. They do some pretty great lifts with her leg practically wrapped up around her head and he spins her around. In their previews they sometimes show all the good moves early, so I expected them and it took the weight off of the awesome. Still, they are both really just great dancers and they could probably make any routine look great. The judges all admit they saw these two in the end from early on, and that seems likely since they tongue bathed them in praise from day one.
Jeanine reveals she may have had a little of a stage parent, because her mom forced her to dance even when she hated it. Now she loves it though, so it's all good. Her solo is great; in fact, it may be my favorite of the night. The others do exactly what you expect of them, but she ups her game with some really strong moves and tango music. Adam says it was a risky solo and she pulled it off, Mary says she is peaking at the right time, and Nigel agrees it was brave. She really did step it up to Brandon, and she just made me really take her seriously for the first time in the top ten. Way to bring it, Jeanine!
It's time for the boys to fight one another, yay. They're doing pop jazz with Laurieann Gibson and she basically gives them the same routine idea people do every year with the two boys. This means they'll be 'competing' on stage with one another for the title. Danny and Neil did this the best as the warring Prince's in season three. Listen, there is no question in anyone's mind that Brandon is the better dancer, but Evan has personality. He's got this little ... spark. You can't help but smile at him. Still, it doesn't fit the dance right and Brandon out performs him. The judges all tease him for not being nasty or bad enough for the routine, and Brandon seems genuinely sad that they're criticizing his rival. No, be tough, Brandon, you want to beat him!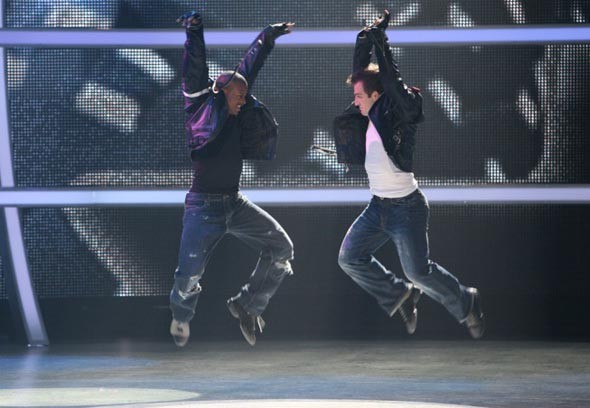 Brandon Bryant and Evan Kasprzak perform a Pop Jazz routine choreographed by Laurieann Gibson © Fox Broadcasting Co.
Kayla and Jeanine are dancing together for a Mia Michaels routine. Nigel points out later it is kind of like the 'Dance of the seven veils,' basically they keep removing layers of clothing until they're in their underwear. It is supposed to represent the layers of themselves that have been shed in the competition since the audition process. It's an interesting looking dance and the timing of the steps is different, but it's not one of Mia's best. Honestly none of the dances are really finale material so far, although they're all good. Nothing has really popped and gone 'wow.' The judges are pleasant and positive to the girls, and Nigel says something lecherous about them continuing to shed their clothing. Ew.
Evan's turn for the spotlight, and he's just so freaking cute. He's not as good as the other dancers, and yet whenever he smiles and does his thing you just want good things for him. It's his usual solo which is charming and nostalgic and for any fans of old Broadway, it never gets old. The judges agree he brought something unique to this competition and returned an older style to the stage. Nigel only says that he doesn't think Evan has grown as much as the other dancers, and we all know this is true, but look at those cheeks! Awww. Just wanna pinch them.
Kayla and Evan do the jive with Tony and Melanie. An important thing to note here is that Evan has done the jive before, and he was given very particular notes from Mary to improve upon. The jive really isn't that great, although they ham it out appropriately and do the moves as best as they can. Kayla is a little better than Evan, but she's not really doing the jive as well as she should either. Mary then calls Evan out for the kicks the warned him about and that he didn't take her notes. She says they were both dancing in their own worlds, but then remembers she has to worship Kayla so she says Kayla stole the show. Meh on that. Nigel is more positive and the crowd starts chanting Evan's name. He's so going to win. Every time the judges are harsh to him, he gains more votes. Enjoy your pity win, you cutie pie.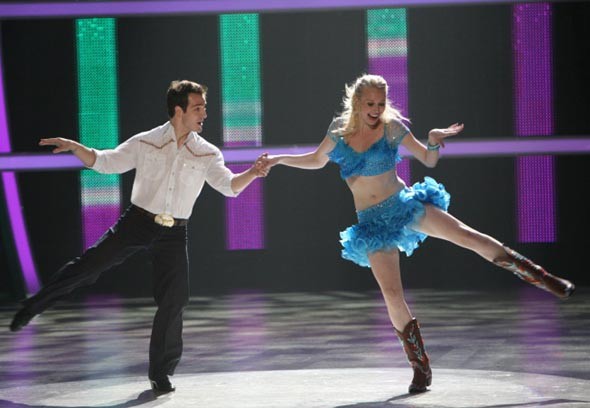 Evan Kasprzak (L) and Kayla Radomski (R) perform a Jive choreographed by Tony Meredith and Melanie LaPatin © Fox Broadcasting Co.
Kayla's solo and yay it's the last one. This really seemed like the longest night so far. She got into dancing when she watched Singing in the Rain. She's smily and pretty, but there doesn't seem much else going on. There's not as much personality from Kayla as there should be, although her technical dancing is sharp. This is the worst solo of the night, lacking in real passion, and Adam admits that. He does say she did well throughout the whole season though. The judges love her but they do seem to think she's kind of lost that edge.
YES the last pair. Phew. Jeanine and Brandon do a paso doble with Louis. Maaaaan just stop doing this dance on the show, no one ever likes it. However, this is perfect for Brandon because he's got that power house thing down. He has to be strong and angry and commanding, and he does that well. Her dress is fabulous and Jeanine lets him toss her around with ease. They both are strong and somewhat badass, so maybe they redeemed the dance style a little. Mary screams for the first and only time of the night, and Nigel does too. He says some lecherous things about Jeanine, ewwwwww, and that's not really the note we'd like to go out on. And yet, it is.
Watch tonight, Thursday, at 8 PM EST for part two of the finale. Another two hour spectacle of "So You Think You Can Dance!"
Bookmark our 'So You Think You Can Dance' News page & check back for regular episode recaps & news!
Story by
Chelsea Doyle
Starpulse contributing writer
Follow Chelsea on twitter at http://twitter.com/mustbethursday.