'So You Think You Can Dance' Choreographer Sentenced To 10 Years For Rape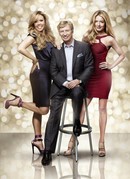 A choreographer on hit talent show So You Think You Can Dance has been sentenced to serve 10 years behind bars for raping a former student and assaulting another.

Alex Da Silva was charged with multiple felonies relating to allegations he raped and sexually assaulted four women when he was arrested in 2009, but he was only convicted of one count of rape and one count of assault with intent to commit rape in court on Friday.

The jury was deadlocked on the remaining charges, which were subsequently dismissed, according to TMZ.com.

Da Silva was also ordered to register as a sex offender for the rest of his life.