'So You Think You Can Dance' 2014 Recap: Top 18 Perform
Last night's So You Think You Can Dance 2014 episode showed the dancers start to get the jive of things. There were so many good performances that night that it was hard to watch anyone leave. However, a few missteps made it easy for Nigel Lythgoe to single people out on So You Think You Can Dance season 11.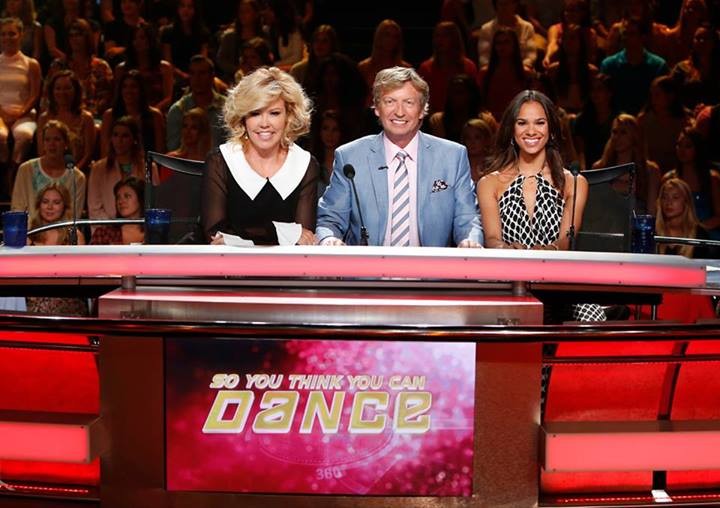 Misty Copeland continued to be the star judge on the panel by giving specific and helpful advice that we rarely hear from Nigel and Mary Murphy. At the end of the night, two more So You Think You Can Dance 2014 contestants were eliminated.
Jacque LeWarne and Zack Everhart
The hands took the starring role in Jacque and Zack's hip hop piece. Nigel complimented Jacque on her ability to adapt to any dance style. According to Nigel, she never looks out of her element. Misty said that Zack and Jacque aren't just a tap dancer and a ballerina, but dancers.
Jourdan Epstein and Marcquet Hill
Jourdan and Marcquet did a contemporary piece with the help of an umbrella. Mary said that Jourdan attacks every style she's given, but still lacks some magic. Nigel said Marcquet and her lack a connection. The judges' feedback gave Marcquet high marks for his partnering skills.
Jessica Richens and Stanley Glover
Jessica and Stanley dance a fun jazz piece. All the judges agreed that Jessica needs to trust in her movements and not overdo her facial movements. Misty said that Stanley has that problem as well.
Bridget Whitman and Emilio Dosal
Bridget and Emilio's "happy" Jive delivered equal parts performance and skill. Mary said for two people not dancing their style, they were really jiving it. Misty complimented them for not overdoing their faces, and simply being performers.
Emily James and Teddy Coffey
Emily and Teddy's intense contemporary piece highlighted the beautiful and ugly parts of love. Misty said that Teddy easily translates to every genre. She calls Emily and him beautiful together.
Brooklyn Fullmer and Casey Askew
Brooklyn and Casey did a high energy jazz number. Misty commended Brooklyn on her growth from last week's performance. However, Nigel said Brooklyn now needs to get her standards up to Casey's level, because he did amazing on their performance.
Valerie Rockey and Ricky Ubeda
Valerie and Ricky got the first standing ovation of the night for their Viennese waltz. Mary began by saying that the beginning of their dance was dream like, but then got more critical. She told Ricky to work on his leg movement. Everyone agreed that Valerie was the shining star of the night. They also agreed Ricky's dance skills are way above everyone else's in the competition.
Carly Blaney and Serge Onik
Carly and Serge performed their hip-hop piece dressed as skeletons. Nigel started off the judgment by saying that their piece was hard to criticize. He felt that people wouldn't call up to vote for them. Misty and Mary both disagreed. They loved the piece, and Mary said that Carly was a beast tonight.
Tanisha Belnap and Rudy Abreu
According to Misty, Tanisha and Rudy danced a broadway piece in "perfect unison," but kept their individuality. Mary gave them the huge compliment that she will still remember this performance at the end of the season.
Bottom Six
Girls
Jourdan
Bridget
Emily
Guys
Stanley
Teddy
Emilio
Stanley and Jourdan are eliminated.