'So You Think You Can Dance' 2014 Premiere Recap: Honoring Dad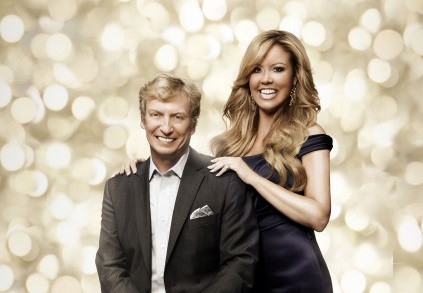 The So You Think You Can Dance 2014 premiere perfectly blended heartwarming, silly, and inspirational moments. We witnessed everything from a "dad dance-off" to dancers who refused to give up on their dreams. So You Think You Can Dance started off season 11 with enough excitement to hook us. 
Day 1: New Orleans
Wayne Brady joins Mary Murphy and Nigel Lythgoe as a judge in New Orleans.
Shelby Rase
Shelby's dad and his "bottle dance" overshadows her excellently executed contemporary solo. Later, daddy (Mike) Rase even makes another appearance to duel another father during a "dad dance-off." Mr. Rase aside, Shelby goes straight to Los Angeles with a golden ticket.  
Tanisha Belnap
Despite Nigel's pervy comments about Tanisha's dad's "services" to her mom to produce her and her 11 siblings, she delivers a stellar solo ballroom piece. It accomplishes the difficult task of being neither awkward nor boring with its incorporation of acrobatics along with ballet moves. Tanisha and her "ridiculous" moves live on in LA with a ticket.
Shelby "Skip" Skipper and Shane Skipper
Briefly, we revisit So You Think You Can Dance season 6, where Skip auditioned and didn't make it. For season 11, he brings his little brother along to help him with his hip-hop routine. Skip fills it with character, and Mary and Nigel agree it would be a great Broadway number. Ultimately, Skip gets sent to choreography, while Shane goes home.
Megan Marcano
Megan shares that by the age of 12, she was on her own-in and out of the homes of friends, relatives, and even teachers. After Megan's contemporary performance, Nigel shares how she is one of those people you cross your fingers and hope they're good. You want them to succeed that bad. Well Mary calls Megan a "star" and she shines on with her ticket to the next round.
Trevor Bryce
Trevor stuns and surprises the audience and the judges with his ballet, contemporary, and a little hip-hop fusion. Nigel calls it, "the greatest solo performance ever on So You Think You Can Dance."  So of course he rides on to LA with a ticket.
Day 1 ends with Skip suddenly leaving the choreography round. At least four from it are rewarded with tickets.