'So You Think You Can Dance' 2014 Episode 7 Recap: Pick Your Partner
The top-20 dancers selected partners on last night's episode of So You Think You Can Dance season 11. Some dancers were fortunate enough to dance in the style they're trained in, but for most it was a new experience. Some dancers delivered mesmerizing performances, but others didn't live up to their hype. Read below to find out the first two dancers eliminated on So You Think You Can Dance 2014.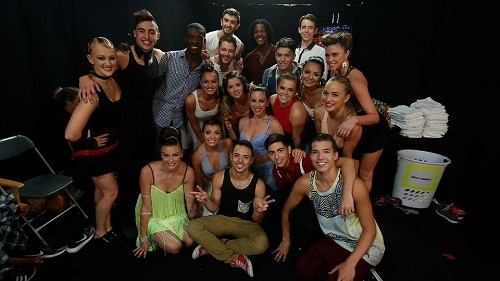 Tanisha Belnap and Rudy Abreu
Sonya Tayeh choreographs Tanisha and Rudy's contemporary dance. It a piece filled with aggression, but layered with intricate and structured movement.  Guest judge Misty Copeland compliments the dancers on their fluid movement and sexy facial expressions. For the judges, Tanisha was the star of the piece with her stellar skills and movement.
Valerie Rockey and Ricky Ubeda
Valerie and Ricky are paired and select contemporary. So Travis Wall choreographs their piece about the "one that got away." The somber music and complex feet movement really play on the heart strings. However, Misty and Nigel comment that not enough emotion from the dancers shined through in this piece.
Bridget Whitman and Emilio Dosal
Luther Brown choreographs and guides Bridget and Emilio through their hip-hop dance. As a hip-hop dancer, Emilio does most of the tricks in the performance. Everyone is impressed with Bridget's effort and transformation with the dance. Misty comments that she needs to channel her strong and feminine side in the dance.
Jessica Richens and Nick Garcia
So You Think You Can Dance season 2 winner Benji Schwimmer choreographs a West Coast swing piece for Jessica and Nick. Their piece is the hardest to watch because of the awkwardness of it. Mary sums it up best when she says that they did the best they could do for people not trained in that style. Nigel also, slightly, blames Benji for expecting too much of them this early. He said the dance brought him down.
Carly Blaney and Serge Onik
Sonya appears again to choreograph Carly and Serge's contemporary piece. They dance elegantly, emotionally, and in-sync the whole piece. For the first time during the episode, Misty seems genuinely impressed, even offering them a 'wow.' Nigel said this is the first time tonight he felt an emotional connection from partners.
Emily James and Teddy Coffey
Dave Scott choreographs Emily and Teddy's hip-hop number. Nigel compliments them on pushing their body to places it's never been, but says they need better chemistry as partners.
Malene Ostergaard and Stanley Glover
Spencer Liff choreographs a 60s inspired Broadway number for Malene and Stanley. It's a really cool, slick concept involving telephones. Mary said the concept was great but it went downhill as it continued. Nigel basically says that their routine and performance failed on multiple levels.
Jourdan Epstein and Marcquet Hill
Sean Cheesman choreographs the jazz piece that Jourdan and Marcquet perform. Both dancers have keeping character issues, which Nigel and Misty comment about. All judges compliment Sean on smartly incorporating Jourdan's ballet background in the leg movements.
Brooklyn Fullmer and Casey Askew
Miriam Larici and Leonardo Barrionuevo choreograph Brooklyn and Casey's Argentine Tango dance.  The whole dance exemplifies sex appeal with the movements and production. Nigel compliments them on their control. Mary simply says they nailed it.
Jacque LeWarne and Zack Everhart
Sean returns to choreograph Zack and Jacque in an African Jazz piece. The performance is very animalistic as they embody paintings coming to life. Misty says that Jacque made all the right choices with her body, but needs to work on her mouth. She says that Zack gave the "right amount of everything." Nigel says this was one of his favorite choreographies for the night.
Elimination
The bottom six are: Casey, Brooklyn, Serge, Malene, Jourdan, and Nick. After dancing for their lives, Nick and Malene are eliminated.