'So You Think You Can Dance' 2014 Episode 14 Recap: The Finale Part 1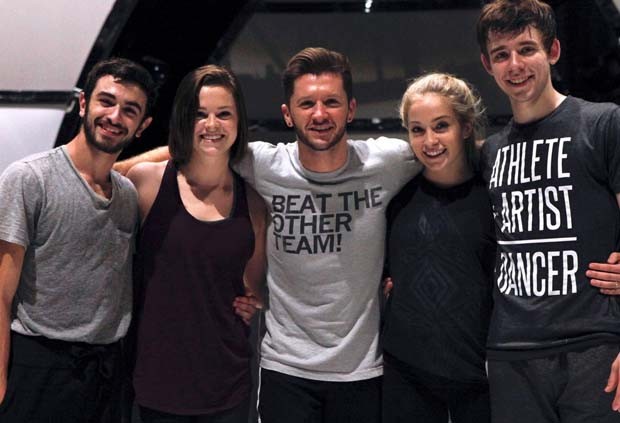 Last night's So You Think You Can Dance 2014 performance finale proved why Valerie Rockey, Zack Everhart Jr., Jessica Richens, and Ricky Ubeda all deserve a shot at the title of America's favorite dancer. The night was full of jazz, a touch of hip hop, and an abundance of contemporary. Mary Murphy, Nigel Lythgoe, and Guest judge Jesse Tyler Ferguson gave less criticims and more praises for each dancers' journey to the finals of So You Think You Can Dance season 11.
Valerie Rockey and Ricky Ubeda: African Jazz
Ricky and Valerie got animalistic in their embodiment of animals fighting to the finish line. Nigel commented on how stamina was key to get through their high-energy African jazz performance. Mary called them "survivors," when talking about their overall journey this season.
Jessica Richens and Zack Everhart Jr.: Broadway
Jessica and Zack were sleek and sexy all the way through their broadway piece. Jesse said that broadway would want to snatch them up immediately, because of how effortlessly they executed their performance.
Valerie Rockey and Zack Everhart Jr.: Contemporary
Valerie and Zack played lovers who guided each other through life. To make things more complicated, Valerie's character was blinded. The entire piece felt like it could easily been the plot to a romantic movie. Their dance was just as dreamy as a movie. Jesse said that they completely sold the story. Nigel commended them for making it light and beautiful, despite the intense topic.
Jessica Richens and Ricky Ubeda: Jazz
Jessica and Ricky's jazz performance synchronized so easily that it was completely captivating to watch. It was a pairing made in dance heaven. Nigel commented on how they were perfect partners and complimented each other.
Jessica Richens and Valerie Rockey: Bollywood
Valerie and Jessica combined tradition bollywood movements with a touch of some funky ones. Jesse said that their joyious bollywood dance was made for them.
Zack Everhart Jr. and Ricky Ubeda: Hip Hop
Zach and Ricky may not look like hip hop dancers, but they both inhibited the genre completely during their performance. They hit hard and did tricks galore as they played dueling hip hop kings. Mary said it best when she said that they "blew her away," because they did the same thing to everyone watching them.
Valerie Rockey and All-Star Aaron Turner: Tap
Aaron and Valerie's tap number had equals part tap and broadway. It was classy, showed a lot of character, and delivered loads of charisma. Jesse said that Valerie was amazing, and Nigel said that she made him proud.
Ricky Ubeda and All-Star Kathryn McCormick: Contemporary
Kathryn became an angel to save Ricky in this contemporary number. It was a very emotional and beautifully danced piece. Jesse said that Ricky moves people every time he dances.
Zack Everhart Jr. and All-Star Aaron Turner: Tap
Zack and Aaron danced another spectacular tap performance. It was simply incredible with the classic film vibe and perfectly chosen song. Mary said that Zack shows his passion for dance every week.
Jessica Richens and All-Star Robert Roldan: Contemporary
Lots of leaps and lifts accompanied Jessica and Robert's very intense, but excellently executed contemporary piece. Mary called it fire on stage. Jesse said it was the best piece of the night.