'So You Think You Can Dance' 2014 Episode 13: Final 4 Revealed
Next week is the So You Think You Can Dance 2014 performance final. So the top 6 dancers only had two more shows to make viewers vote for them. They did not disappoint viewers in the semi-finals. At the end of this So You Think You Can Dance 2014 episode, the six became four.  Guest judge Christina Applegate joined Nigel Lythgoe and Mary Murphy as the contestants continued to fight for the So You Think You Can Dance season 11 crown.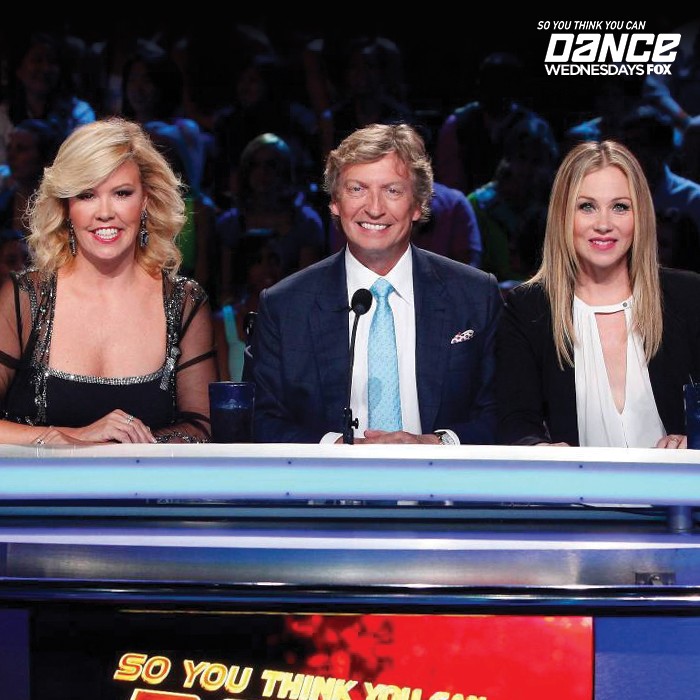 Jessica Richens and Casey Askew-Disco
Jessica and Casey made disco cool again with their mesmerizing performance. Some of the tricks, including a spectacular twirl, really won points with viewers and judges. Mary noted that the performance made her feel like she was trapped in a crystal ball. She called it classic disco.
Casey Askew and All-Star Makenzie Dustman-Contemporary
The audience lost their breath as they watched Casey and Makenzie's heartbreaking contemporary piece. They melted into one with their movements. Mary told Casey that this was his best performance of the season. She also called it beautiful, while Nigel called it emotional.
Jessica Richens and All-Star Ade Obayomi-Jazz
Jessica and Ade did a really crazy club inspired jazz routine. Combine the over-the-top costumes, concept, and challenging moves and it leads to one fun performance. However, Nigel said he didn't really connect with it.
Rick Ubeda and Valerie Rockey-Broadway
Ricky and Valerie's performance was equal parts adorable and sweet.  With a swing prop, it felt just like a scene from a classic romance film. Christina told them that they both had the characteristics of winners.
Valerie Rockey and All-Star Stephen "tWitch" Boss-Hip Hop
tWitch and Valerie twisted the traditional wedding dances with their hip hop piece. Mary said that Valerie really broke it down and Nigel commended her on being a great performer.
Ricky Ubeda and All-Star Anya Garnis-Cha Cha
Everyone was impressed that Ricky didn't get overshadowed by Anya. Nigel and Mary both said that Ricky really adapted to the cha cha well. Christina called their performance sensational.
Jacque Lewarne and Zack Everhart Jr.-Foxtrot
Jacque and Zach tried to make their foxtrot look smooth and effortless, but they struggled. Mary immediately criticized them for the dance's "rough edges." Nigel said that the performance wouldn't get them votes. Christina tried to be more positive by telling them to reach within their souls when performing, because then the piece will come together.
Jacque Lewarne and All-Star Will Wingfield-Contemporary
Jacque and Will had one of the most memorable performances of the night with their contemporary piece. The piece used a red balloon to demonstrate the tenderness of first love.  Christine said it made her heart warm. Nigel said it was so brilliant that it made he forget about the foxtrot.
Zack Everhart Jr. and All-Star Du-Shaunt "Fik-Shun" Stegall-Hip Hop
Zack and Fik-Shun did a performance that focused on using hip hop movements to create shapes. Ink blocks inspired their piece. All the judges agreed that Zack has been the biggest surprise of the season and that they are really proud of him.
Elimination
Jacque and Casey are eliminated this week, which leaves Zach, Ricky, Valerie, and Jessica as the final four contestants.