'So You Think You Can Dance' 2014 Episode 11 Recap: Top 10 Perform
The top ten So You Think You Can Dance 2014 dancers finally reached the half-way mark. This means the introduction of all-stars. It also usually means that the audience can expect otherworldly performances. While the performers danced their hearts out for votes, Mary Murphy, Nigel Lythgoe, and Tara Lipinski kept their criticisms generally positive on this week's So You Think You Can Dance season 11 episode.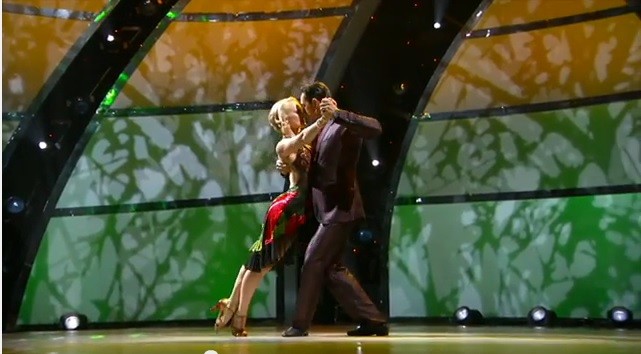 Bridget Whitman and All-Star Brandon Bryant-Bollywood-Disco
Bridget and Brandon do a high-energy Bollywood-Disco dance. It excites the audience and judges. Nigel and Mary kept their critique simple by using adjectives like "inspiring" and "fun" to describe the piece. Tara calls it a "beautiful moving puzzle."
Tanisha Belnap and All-Star Ryan Di Lello-Argentine Tango
Tanisha and Ryan effortlessly capture the sexy and intricate nature of the Argentine Tango. Mary says it was everything she needed from it. Nigel says that Tanisha never put a foot wrong during the performance.
Emilio Dosal and All-Star Jasmine Harper-Hip-Hop
Emilio and Jasmine's dance playfully told a story of a snake and a king battling for the throne. The dance required them to switch hip-hop styles quickly. Nigel tells Emilio that he keeps getting better with each new performance.
Valerie Rockey and All-Star Ade Obayomi-Jazz
In this piece, Valerie needed to channel a character meaner than her. She tries her best, but all the judges agree that she's too nice for it. However, Mary and Tara both compliment her dancing and performance. Nigel disagrees slightly, because he says that Ade out-shined her, and she could be in danger next week.
Rudy Adreu and All-Star Jenna Johnson-Cha-Cha
Rudy and Jenna deliver a hot and steamy Cha-Cha, one worthy of the hot tamale train. Tara says that Rudy shows his passion on the dance floor. Nigel apologizes to Rudy because he misjudged him, but he warns him not to be an over-the-top character.
Jacque LeWarne and All-Star Chehon Wespi-Tschopp-Contemporary/Ballet
Jacque and Chehon perform a simple, classy, beautiful hybrid contemporary and ballet dance. It plays on the idea of light and dark with the lighting, styling, and staging. Nigel starts his critique by saying "wow," and then goes on to talk about its beauty. Host Cat Deeley comments on how captivated the audience was by the piece.
Ricky Ubeda and All-Star Lauren Froderman-Jazz
Ricky and Lauren's cheerfulness immediately makes their performance infectious. Their rockabilly inspired jazz piece is really dynamic. Mary comments that Ricky has the skills to pay the bills.
Casey Askew and All-Star Kathryn McCormick-Broadway
Casey and Kathryn are like an old-fashion movie with their "he loves me/he loves me not" inspired dance. Tara discusses how good they create chemistry together. Nigel tells Casey that he's giving Ricky some real competition.
Zack Everhart Jr. and All-Star Amy Yakima-Contemporary
Zack and Amy's piece embodies a friend who has passed away. So of course it causes the judges and audience to get really emotional. Nigel mentions how contemporary dances have the power to incite emotions. Mary called this performance a masterpiece.
Jessica Richens and All-Star Stephen "Twich" Boss-Hip-Hop
With the help of a bench prop, Jessica and Twich deliver a high-energy, fun hip-hop performance. Nigel told Jessica that this piece, and the one from last week, proved that she is finally living up to her potential.
Elimination
Zack and Emilio are in the bottom two along with Bridget and Jacque. Emilio and Bridget get the lowest number of votes and are eliminated.