'So You Think You Can Dance' 2 of 10 Voted Off

Billy Joel's "It's Still Rock and Roll to Me" to start the night? Thank you! Everything they put into this dance was relevant to the myriad of styles brought to the table this season. Legacy and Jakob did get a few nicer shots on camera, and who doesn't love seeing Legacy in leather - oh and the married couple got to make out onstage together for the first time this season. So. Many. Warm. And fuzzies.
Lest we forget, one of the girls rocking her heart out onstage is going to be crying tonight. She won't be alone - an unlucky boy will be right there with her.
Now, when you are clueless to you upcoming surprise birthday party, and somebody spills the beans, you're bummed. You don't want to know that Leo dies at the end of "
Titanic
" or that
Bruce Willis
was dead from the get-go in "
The Sixth Sense
." So when you come home to review your DVR'd "
So You Think You Can Dance
" episode, you never expect your lovely roommate to watch the entire thing, and leave the last 2 seconds available for you to see.
In short, I know who's leaving before this entire show happens. I'm half-pissed. If you've been following, you might be able to guess as to who's finally gone. Thus, the speculation has to wait until next week. "America," or the portion of America that chooses to vote, put Noelle, Kathryn, Nathan and Ryan in the bottom four. Before the choice is delivered, we get to see them perform their solos again.
First, we're treated to a special guest-performance. The Legion of Extraordinary Dancers struts their stuff. I love when they bring in professional groups to give us reality competition-watching schlubs a real chance to see extreme creativity and incredible talent. These quick little showcases also exhibit how much growth the Season 6ers can still attain. It was like watching a field of Legacy-s and Ellenores, but male, hit movements with incredible synch and power. Quick, succinct, and powerful.
The only thing I can say about the four soloists is that Noelle fell a teensy bit short, Ryan did much of the same "Hurricane" pseudo-homo solo (not that there's anything wrong with that), Kathryn still pulled some connection with the audience out of nowhere with her performance, and Nathan is so much better performing his own pieces than taking choreography from somebody else. Was that the problem this entire time? Nathan just needed the freedom to take control of his own choreography? He was lovely and unique in his movements. We don't see him do that with partner pieces. Dammit, why would you pull out such a fantastic solo when you're so close to being cut?
We say goodbye to Noelle and Nathan. Noelle has to be happy from now on - she went out on her absolute best performance in the past week. Think of it; the day you die better be the best damn day you ever live. She at least got to peak before leaving and didn't exit on something like a Russian folk dance piece. Nathan…too little too late. He deserved to go out when he was partnered with Mollee. Those two were poison for each other. This week, he wasn't completely catastrophic in his performance.
But, somebody had to go. The cuts only get harder from here on out, but put this in cement: Jakob vs. Ellenore for top 2.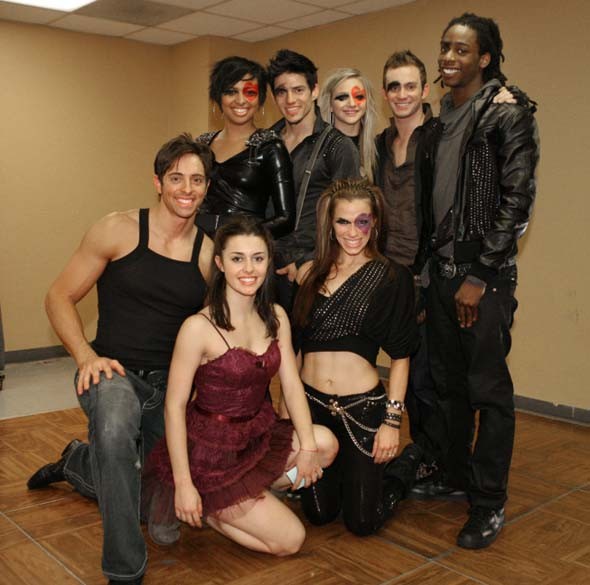 Pictured top row L-R: Ellenore Scott, Legacy Perez, Mollee Gray, Jakob Karr and Russell Ferguson. Bottom row L-R: Ryan Di Lello, Kathryn McCormick and Ashleigh Di Lello. © Fox Broadcasting Co.
Bookmark our 'So You Think You Can Dance' News page & check back for regular episode recaps & news!
Story by
Kate Kostal
Starpulse contributing writer