Snowstorm Grounds David Archuleta In Colorado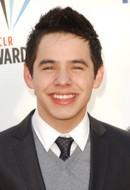 Singer David Archuleta missed his flight home to Utah on Thursday after a snowstorm left him grounded in Colorado.

The former American Idol star played the final date on his My Kind of Christmas Tour in Beaver Creek on Wednesday night - his last live performance for at least two years after announcing plans to put his career on hold to serve as a Mormon missionary.

But his trip home to Utah didn't go as smoothly as planned due to severe weather conditions.

In a series of posts on his Twitter.com page, he writes, "Stuck in the mountains on the bus because of a snowstorm. Missed my flight, so I guess a new adventure will begin haha.

"On a side note, the band and some crew who took a shuttle might still make their flights. Some awesome mountains around here too."

Archuleta declared plans to pursue his religious duties as a member of the Church of Jesus Christ of Latter-Day Saints on Monday.

It is not yet known where the 20 year old will be called to serve his mission, but he'll be required to adhere to a strict set of rules and refrain from contacting his family - except for twice-yearly phone calls.