Snoop Dogg Scraps His European Tour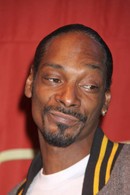 Rap superstar Snoop Dogg has dropped out of a major European festival in April after cancelling his tour of the continent.

The Drop It Like It's Hot hit-maker was the main headliner at the Snowbombing event in Mayrhofen, Austria alongside Fatboy Slim, The Vaccines and Example.

However, the festival's organizers released a statement on Friday apologizing to ticketholders when the hip-hop legend pulled out after scrapping all dates in Europe.

The statement reads, "We are sad to announce that Snoop Dogg has cancelled his European tour which unfortunately means he is unable to appear at Snowbombing 2012. We are extremely disappointed but we are now working around the clock to replace him. We will have an update for you soon."

The scrapped tour comes weeks after Snoop Dogg was arrested and booked on misdemeanor drug possession charges in Texas.

He was previously banned from entering Britain in 2006 when he was arrested following a fracas at London's Heathrow Airport, prompting officials to deny him entry in 2007. The rapper appealed, and the ruling was reversed in 2010.