Snoop Dogg Held By Immigration In Norway For Having 'Too Much Cash'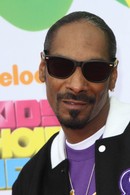 Rapper Snoop Dogg was held by immigration officials in Norway on Friday as they quizzed him over the large sum of cash he was carrying.

The hip-hop star travelled to the country ahead of an autograph signing session at an Adidas store prior to his Friday night show at Oslo's Spektrum Arena as part of his Doggumentary trek.

But the "Sweat" hitmaker, real name Calvin Broadus, Jr., was prevented from entering the country by border control for having "too much money" on him.

Taking to Twitter.com to vent his frustration, he writes, "At the norway border right now being sweated for havin 2much money!! Norway standup 4 the biggdogg the border guys r cool but... They talkn bout takn my $$!! That aint rite!! (sic) Norway standup 4 the biggdogg!! they makn me late 4 this autograph signin!"

Broadus, Jr. was eventually allowed to enter Norway and apologized to his fans who were left waiting because of the drama: "Shout out 2 all 600 fans n Oslo who waited all day at the Adidas instore signin."