Snoop Dogg Facing Fan Backlash Over Support For Accused Murderer Aaron Hernandez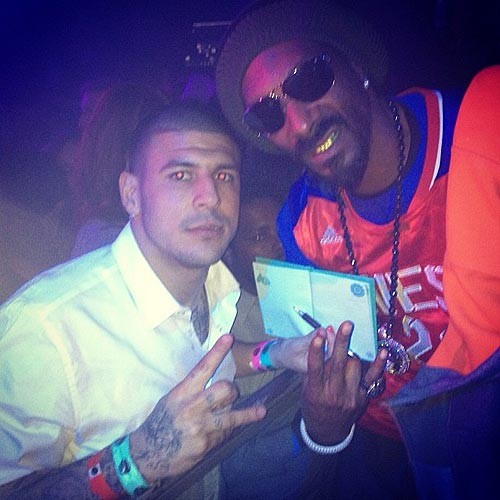 Snoop Dogg/Snoop Lion has felt the wrath of his fans on Twitter after posting an image of himself with accused murderer Aaron Hernandez.

The rapper-turned-reggae singer showed support for the former New England Patriots star, who was arrested last month and held without bail in Massachusetts over the fatal shooting of a man whose body was found near his home. Hernandez is also a top suspect in another double homicide in Boston.

"Keep ya head up !! We prayn 4 ya," Snoop wrote as the photo's caption, showing his support for his friend while he faces life in prison if he's convicted.

"Praying that he rots in hell!", one follower wrote about Hernandez; while another said, "u should be praying for the family of the homie who got murdered! F**k Aaron Hernandez."

One simply called Snoop a "Dumb a**" for his comment; while another went on a tirade aimed at Hernandez, saying, "You're a waste of man and talent!! Now your daughter is gonna have to be raised by another man while you sit away in a cell."

Despite all the evidence piling up against Hernandez, another brought up the law (which a lot of people tend to foget in these cases), writing, "F*** all this haters talking sh*t he's innocent until proven guilty."

And another pointed a finger at celebrities in general, many of whom seem to be above the law: "Yeah, lets free him. I mean football players & celebrities get away with everything in this country. Why not let them get away with murder."

Snoop was acquitted of murder in 1996 relating to the shooting death of a gang member in 1993.