Snoop Dogg Attempting Twitter World Record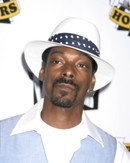 Hip-hop star Snoop Dogg is eyeing a new record - he wants to outdo rap rival Reverend Run by sparking four million messages on Twitter.

The Gin and Juice hit-maker will send out a message to his followers on the site on Tuesday and is urging them all to 're-Tweet' it - meaning to send it on to their own online pals.

And he hopes his four million fans on the site will oblige, setting a new world record and beating the previous best set by former Run-DMC star Run last year.

Snoop tells AllHipHop.com, "Hitting four million Twizzles (followers) is a big moment for me and I want to thank all my fans for their continued support. I want to show the world how powerful and influential social media and my fans are, which is why I am attempting to set the world record for the most 're-tweets' on Twitter."