Snooki Unveils New Line Of Feather & Swarovski Crystal Headphones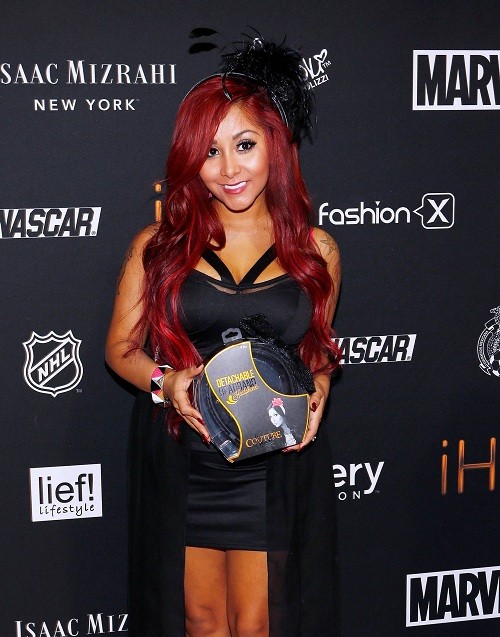 With two wildly popular reality shows "Snooki & JWoww" and "Jersey Shore", three books, two perfumes, jewelry, slippers, tanning and sunless lotion lines, and more under her belt, Nicole "Snooki" Polizzi is now creating buzz in a brand new area. Her next endeavor combines her love for dancing and house music into in her Snooki Couture brand; headphones. Snooki Couture by Nicole Polizzi offers the much-anticipated line of fashion-you-can-hear headphones, ear buds and more in signature Snooki styles and motifs all by iHip.

"I'm so happy to...have my very own line of headphones to add to the Snooki Couture brand.  I worked with iHip to design a line that was very me - with sequins, rhinestones, feathers and leopard that doubles as accessories," reveals Snooki.

Her personally designed fashion audio products and accessories offers not only booming bass and noise-cancelling effects, but also all the personality and attitude of the reality star herself, all doubling nicely as fashionable hair accessories.

The Snooki Couture by Nicole Polizzi stylish lineup includes never before seen designs in the headphone category. Detachable headbands were created with adjustable speakers for fit and fashion. Feather Earphones and Fashion phone cases are ear-buds that double as earrings with hanging feathers and rhinestone studs available in signature Snooki leopard. The iHip Retro Fashion Phone is available in Swarovski crystal colors to plug into your iPhones and iPads and is available in a high-heel style with red bottoms.

The entire line ranges from $24.99 - $59.99, is available at  ihip.com and in Spring/Summer 2013 at thousands of retail stores to be announced.