Snooki Sells Crocodiles & Handbags On The Home Shopping Network (Video)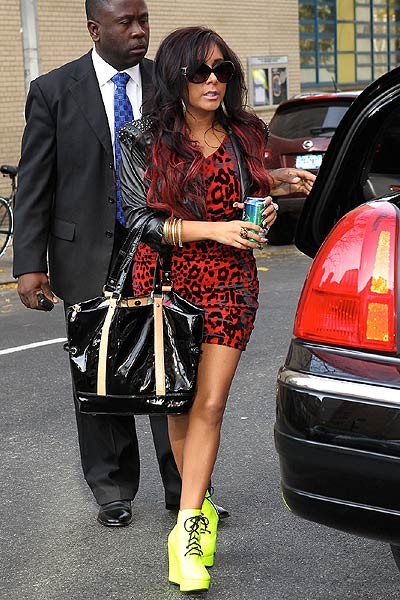 A slimmer looking Snooki showed up for an appearance on the Wendy Williams Show on Monday morning wearing a red leopard print dress and drinking a Sprite. And what about those yellow neon shoes? According to her Twitter page she loves them and they make her "feel like a Spice Girl.
"How fun are my shoes today? I'm obsessed ♥," she writes.

The 'guidette' has been spending a lot of time lately promoting the designs of her accessory line, and she made her debut on the Home Shopping Network last week to peddle her wares. One woman even called in to the shopping channel to ask her about her 'Crocodilly' stuffed animal - the signature crocodile stuffed animal based on the one she won at an arcade - before revealing that she "married a guido."

"Woot, good for you, girl!" Snooki replied.

The Jersey Shore star has been watching her weight lately and explains that because of her height it makes things more difficult when it comes to eating.

"[T]ry being 4'9 and having one french fry and it looks like you gained 20 lbs. if i was stretched out like a normal person id (sic) be fine. [B]ut im a midget and need to work extra hard to be fit and healthy," she wrote as her status on her Facebook page on Sunday.


Check out clips of Snooki's appearances on the Home Shopping Network in the videos below!