'Snooki & JWOWW' Recap: There's No Real In Reality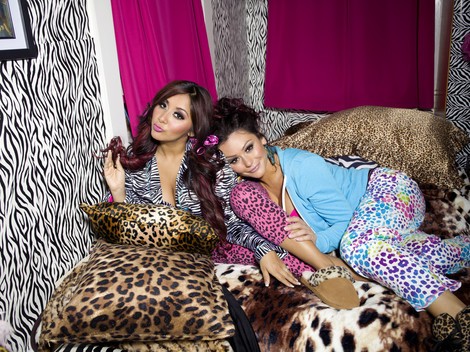 It's a depressing truth that there is nothing remotely real about reality shows.  Those alluring exterior shots of Kardashian manor are reportedly of an empty house on the market.  The Real Housewives will manipulate the action behind the camera just as much as they mug in front of it.  The "Basketball Wives" aren't actually married to NBA players.  The producers control as many details of the stars lives as they can, and the stars go with it because they're making serious bank to make any given moment "entertaining."  It's not a bad gig.  If I had an unhealthy love of alcohol and getting arrested, I'd probably do it.  Since cherish my sobriety and freedom, I have to settle for mining the reality show abyss looking for gold. Unfortunately, MTV's newest "Jersey Shore" spin-off, "Snooki & JWOWW" is for fools.
Nicole "Snooki" Polizzi and Jennifer "JWOWW" Farley forged a genuine and deliciously foul-mouthed friendship during those pickle-juiced soaked summers at the Jersey shore.  And it's a pop culture tragedy that none of that authenticity found its way to "Snooki & JWOWW."  Like "The Pauly D Project" starring the likable and strangely adorable DJ Pauly D, this spin-off is contrived, eye-rollingly ridiculous and so tedious, I found myself aching to watch "That's My Boy." 
Let's dive in, shall we? 
The show begins at Jenni's gigantic, pristine, enormous home with her jacked, live-in boyfriend Roger, who never met an Ed Hardy shirt or a tanning bed he didn't like.  She's on the prowl for apartments before she even asks him if she can move in with Snooki for "one last hoorah." 
At Casa Snooki, she rises and slinks out to the kitchen to tell her mom she wants to move out because she's like, old.  Her mom seems surprised because of her "secret."  There's no SPOILER ALERT necessary when I tell you Snooki's engaged to that jobless hobbit, Jionni, and pregnant with his child.  Also, gone are the days when Snooki would pass out in the dog pen and spend the whole next day in last night's party dress and eyeliner.  These girls have hit the big time, and that means they "wake up" fully glammed.    
So everyone ignores how strange it is for two women in committed relationships—one with a gorgeous crib and a boyfriend who could propose any day now (I bet it happens on the season finale!) and another with a fiancé and father-to-be—to be moving into a bachelorette pad, because the show must go on!  Snooki's father just lectures her, the girl with a pimped out Escalade truck, on the importance of paying bills and the difficulties of living on your own for the first time.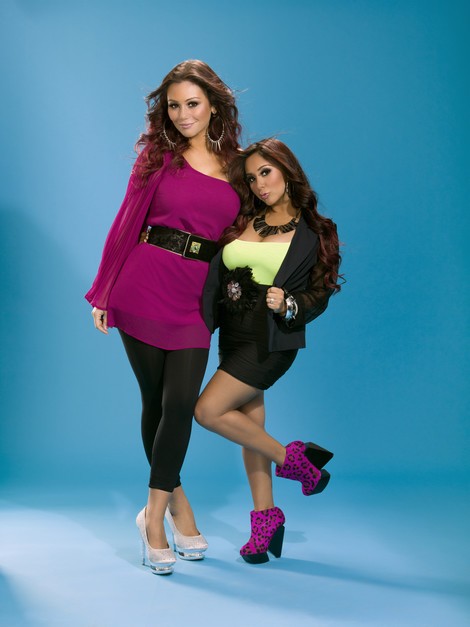 This "city" they've alluded to isn't Manhattan or even one of its fabulous boroughs.  It's not even Hoboken, which a friend assured me is cool and trendy with a decent nightlife.  They're moving to Jersey City, which has a small sad skyline and shirtless pervs who like to gawk at the pregnant meatball exiting the black and pink truck.  After a painfully scripted montage of the new millennium's "Thelma & Louise" looking at dozens (read: three) of horrible apartments, they find a firehouse that's been converted into a loft with duel bedrooms, no stripper pole and an open layout that's conducive to camera crews.  Without that cramped carpeted nook, it's the exact apartment every teenaged girl imagines living in when they picture themselves as older women conquering the world with no parents, a great job and killer outfits.  The realtor (read: actor) lets them hash out the details, and the girls don't even bother talking about rent or whose furniture will go where or anything normal would-be roommates would hash out before signing a lease.  Instead, Snooki finally drops the bomb that she's engaged and preggers, and digs out a huge engagement ring that I cynically believe she bought herself as proof. 
Jenni, bless her heart, is so utterly gobsmacked it's obvious she had no idea.  Her expression of absolute terror was the realest and most relatable thing I've seen in 29 infuriatingly stale minutes.  I'm almost wishing for Mike "The Situation" Sorrentino to lumber down the spiral staircase, flash his abs, and stir up some drama.  Or a drunk Ronnie and Sam could stagger inside hurling insults and rocks at each other.  But it's just the two of them, and that's the problem.
Snooki said it best, "Instead of life throwing me a curve ball, it threw me a sperm ball." 
If the rest of the season is as clumsily staged and head-scratchingly nonsensical as the premiere of "Snooki & JWOWW," then I will be in some real pain. 
What did you think?  Can Snooki and JWOWW survive without the other "Jersey Shore" castmates?  Wasn't Jenni's house so much cooler than her new bachelorette pad?  Share your thoughts in the comments section.