'Snooki & JWOWW' Recap: Let's Hear It For The Boyfriends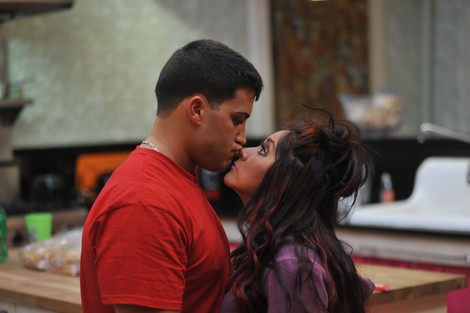 For years, I've been stockpiling my loose change and siphoning money from my paychecks in preparations to travel abroad.  After mulling over the classic destinations like Paris, Rome or London, I've finally decided that I'm going to…Jersey City, New Jersey.  While most people want their vacation spots to have picturesque beaches, exotic culture and centuries-old architecture, I desire to travel to a place where even glossy HD footage can't mask the city's three lone skyscrapers, pregnancy is a mysterious and contagious condition like leprosy, and half of the population is under 4'9". 
I hoped that week's episode of "Snooki & JWOWW" would abandon the wooden, awkward scriptedness of last week's dull premiere and show the girls arriving at their professionally and tackily decorated new digs, but it picked up right where it left off:  Snooki revealed that she's engaged and pregnant and Jenni managed to stifle a feral scream of terror that her wild child miniature BFF is reproducing.  All of that disappeared into celebratory hugs and laughter when Jenni regained her wits and Snooki asked if she'd be the godmother. 
Our two heroines then ventured back to their respective pads to tell their parents and/or significant others that they had found a place, signed the lease and were moving the very next day.  Behold, the wonders of Jersey City!
And it's about this time in the episode that I'm extremely grateful for Jenni's beefcakey boyfriend, Roger.  He's definitely not my type with the annoyingly pruned facial hair and the too-dark tan, but what he lacks naturalism, he makes up for in snark, common sense and tattoos.  He's the voice of reason "Snooki & JWOWW" desperately needs when he jokes with Jionni about the odds of his spawn being over four feet tall and when he groans about being roped into carrying both Jenni and Snooki's "luggages" into the apartment even though you know he's too much of a gentleman to let them help, and asks Jenni if they can break up for 15 minutes and reunite solely for the make-up sex.  I'd totally watch "The Jenni and Roger Show," even if it just followed the couple as they worked out, played with their dogs and didn't get freaky in the bedroom.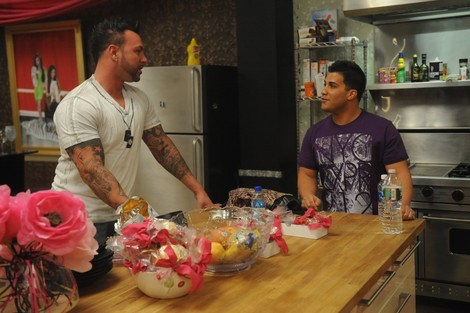 Roger seems to be far better father material that the grumpy garden gnome, Jionni.  He tells his pregnant fiancée to be careful when attempting the very dangerous task of getting out of bed when she's only three months pregnant and says that he wouldn't be with Snooks if she was a ballbuster and hater of bachelor parties like Jenni. If I accidentally got knocked up with his kid, I'd be moving out too and going much further than Jersey City.  This is the guy that fled the continent when a drunk Snooki flashed her naughty bits at him in a club and ridiculed her because she liked to talk dirty on the phone in "Jersey Shore's" fourth season.  As dysfunctional and wild as Snooki is, she shouldn't have to change for anyone but herself.  It offends me that he hypocritically thinks Jenni's demeanor is a dealbreaker when he's been 10 times worse in the past.
I must wax sarcastic about every mundane detail of this episode because nothing spectacular happened.  Jenni expressed her nerves over her decision to live with a pregnant person.  She felt that her BMW leaking anti-freeze and her dogs pooping in the bedroom within an hour of moving into the pad were glaring neon omens from God that moving was a bad idea.  Snooki complained about her boobs hurting and looking "like a mom" as she wore a loose shirt, seven-inch platform heels and a garish pink flower in her red hair.  The only mom she's in danger of looking like is Sideshow Bob's.
This episode did pose the obvious question of what exactly will Snooki and Jenni do in their bachelorette pad now that Snooki can't drink or tan and doesn't want to go to clubs or pee in anyone's bushes.  That's the real dilemma for these two girls who want to "hang on to their 20s."  I guess that will be answered in the following weeks.  I just hope that whatever they decide to do Roger tags along. 
What did you think of this episode?  Am I being too hard on Jionni?  Do you think Roger is a good catch?  Does Jenni's new slimmed down face make her look like the trashiest who in Whoville?  Sound off in the comments section.