'Snooki & JWOWW' Recap: Feel The Love; Fear The Ninja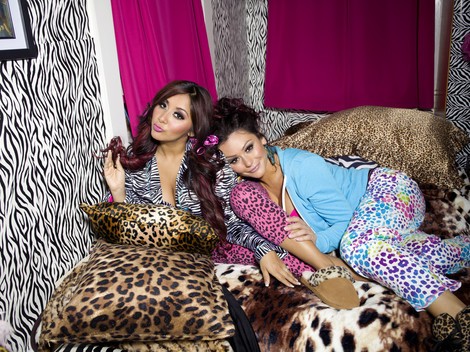 My mind usually wonders when I'm watching my shows.  If it's scripted television, I ponder about how they composed the shots or how many takes it took to get the perfect performance from the actors.  If I'm watching reality TV, I often question if the cameramen ever get bored or laugh while they're filming or how on earth they manage to run with those huge cameras. Unfortunately, all I can think while watching this week's installment of "Snooki & JWOWW"—that admittedly had its touching moments—was about the poor lower-level producer tasked with finding risqué and entertaining activities that the stars could partake in without it being so dangerous or controversial that that it would paint the expectant Snooki in a bad light.  The answer is, of course, send the girls to New York City to soak up some culture at a museum and a nice dinner at a gourmet restaurant.  This is "Snooki & JWOWW," so the girls went to the Museum of Sex to gawk at sprinkle-covered sex toys and male deer threesomes.  Classy.  Dinner was a Ninja Restaurant, where lithe men dressed like ninja leapt out while you dined or on were your way to the bathroom. 
Wherever this producer is, I hope she got a raise because the scene with Mama Snooki fearfully latched onto the Jenni in some bizarre foreshadowing into Snooki's future and collapsing in the elevator screaming, "I just peed!" after being scared by some poor culinary arts grad in a lame ninja costume was the highlight of the episode.  No, wait, actually that was when Roger walked behind Jionni humming the "Oompa Loompa" song, but this made the Top 2.
Nighttime shenanigans aside, this episode focused on Snooki's pregnancy and she and Jenni were both nesting!  Nesting is when a mother-to-be obsessively prepares her home for the arrival of the child.  In Jersey, that means heading to the clearance section of whatever design store would agree to take credit for the criminally hideous designs to search for tacky-chic items, like zebra prints and magenta and black damask wallpaper.  At another store, Snooki met a badass pregnant woman named Meghan who submitted to all of Snooki's questions about pregnancy (Score again for that producer!).  She didn't want to know about if the epidural hurt or if Diaper Genies are a waste of money, Snooki needed to know about vaginal tearing.  Meghan, a super-mom who threw up high-fives and seemed like she had at least seven kids in her own backyard and cut their umbilical cords with her teeth, said that yes it hurt like hell, but after the birthing a baby, you felt like you could kick Thor's ass, so it was all worth it. 
It was unexpectedly sweet to witness this little, too-tanned girl known for her drunken antics slide into the mindset of being a mother, and understand that soon her life would be solely about the little meatball growing inside of her.  But Snooki being Snooki gazed at the sonogram image of her baby boy, while Jenni, the godmother, fought back tears and Jionni stood awestruck, and gasped, "EW!  I think I'm going to throw up!" and all was right with the world.
What did you think of this week's episode?