Snooki & J-Woww Model Lingerie; Snooki Plays For Team Hustler & Shows Her Butt (Pics)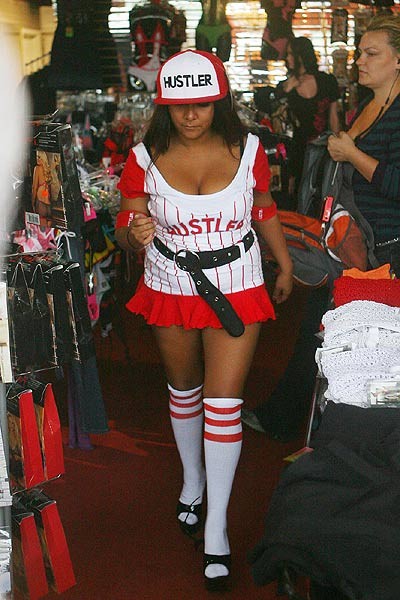 You think your weekend was exciting? Does it compare to the "Jersey Shore" adventures? Castmates Snooki, J-Woww, and Deena Nicole went to an adult store to try on various "sexy" outfits in Seaside Heights on Sunday. Sammi 'Sweetheart' Giancola went for the trip, but didn't try on anything.

Guess we know who the brains of the group is now.

Snooki modeled a Hustler baseball uniform with a skirt that revealed a bit too much. Way. Too. Much. J-Woww flashed her hot pink fingernails and her figure in a black ensemble - she even took a moment to make sure her implants were straight - and newcomer Deena opted for a red white and blue little number.

Oh, and let's not forget that Ronnie Ortiz-Magro was arrested earlier in the day for outstanding warrants. Over unpaid parking tickets.

"Jersey Shore" had a record breaking episode last Thursday night with 5.5 million total viewers (source: Nielsen), making it the #1 cable telecast of 2010. It also holds slots two and three for the year, which, like, pretty much make it the most popular show. Fugghedaboutit.

WARNING: the last image in this photo gallery contains partial nudity (i.e.: Snooki's bare butt) and is possibly NSFW. If you do not wish to see Snooki's bare butt, then don't look at the last few pictures. This is Snooki's butt we're talking about here; and we're assuming the pictures will offend a few more people out there other than just our own editors.
Also, remember that you cannot unsee what you are about to see...
(click pic for next)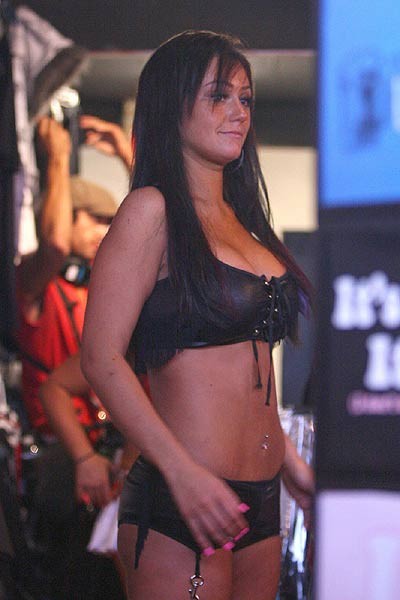 Click the pics for larger images:
- Click here for more "Jersey Shore" pictures! -