Snooki Introduces Baby Lorenzo To The World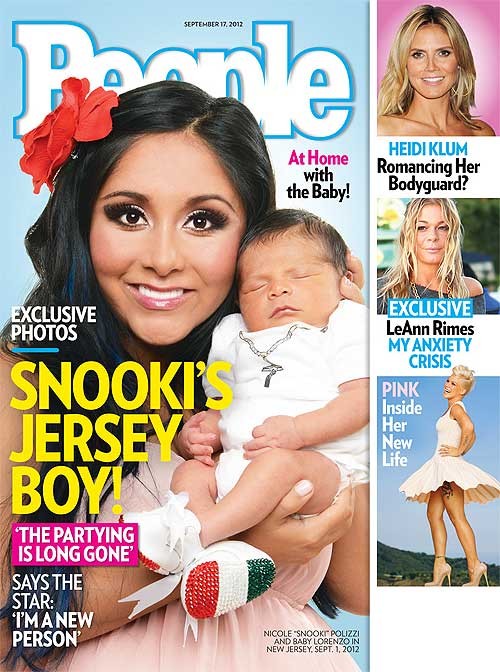 Jersey Shore's Nicole "Snooki" Polizzi, 24, and her fiancé, Jionni LaValle, 25, introduce their 6 lb. 5 oz. baby boy Lorenzo Dominic in this week's issue of PEOPLE, where the new parents share exclusive photos and talk about trading late-night partying for early-morning feedings. In Polizzi's suddenly mommyfied world, "bottle service" has a whole new meaning. "When I got pregnant, everything changed," she tells PEOPLE. "The partying is long gone. I'm a new person."

PEOPLE: This was not planned, right?

Nicole: I always wanted to get married and have kids early. I was aiming for 26, so I'm two years early.
Jionni: We never thought twice!
Nicole: Everybody said, 'What's gonna happen [with your career]?' I was like, 'I'm having this kid. If it ruins everything, I'll get a normal job from 10 to 5.' I didn't give a s---.

PEOPLE: You were in labor for 26 hours.

Jionni: She did her makeup in the delivery room.
Nicole: Before I was pushing, I put bronzer on and [false] eyelashes. I wanted to look pretty for him!

PEOPLE: Any chance you'll hit a club soon?

Nicole: I still want a glass of wine and to have fun, but I have no intentions of going to a club. I'm over it. I'd rather stay home with our son. That's fun.

PEOPLE: Have you had a drink yet?

Nicole: It's too early. I just gave birth! I want to make sure it's the right time, because I'm recovering. It hurts!
Jionni: She's definitely more of an addict for Slim Jims.

PEOPLE: Speaking of diet, how will you get back into shape?

Nicole: I'm definitely trying to eat healthier…and I can't really work out for six weeks, but then I'll start hard-core training. I'll get a trainer or I'll try a boot camp or go back to hot yoga. I gained 35 lbs., but I've already lost 10. I'll bounce back.

PEOPLE: Any wedding plans yet?

Nicole: He has a huge family, so it's probably going to be a big wedding, but I want it to be normal. No helicopters! And I'll wear something sparkly, blingy and white. And my bridesmaids will wear leopard print.

The full interview with Nicole "Snooki" Polizzi and Jionni LaValle, along with exclusive photos of their newborn Lorenzo Dominic, are featured in the 9-17-12 issue of PEOPLE; on newsstands Friday, Sept. 7


*Also In This Week's 'People'*
Interview With The Obamas: Life On The Campaign Trail
Alanis Morissette On Her Past Self: "She Could Benefit From A Couple More Showers"
Katy Perry & John Mayer - They Are Back On: "She Wants To Be With Somebody"
Pink: "There Are Only So Many Tables You Can Dance On…I Put My Name On All Of Them"