Snooki Gets Some Motherhood Practice With Plastic Dolls & Pal J-Woww; MTV To Reportedly Phase Her Out Of 'Jersey Shore'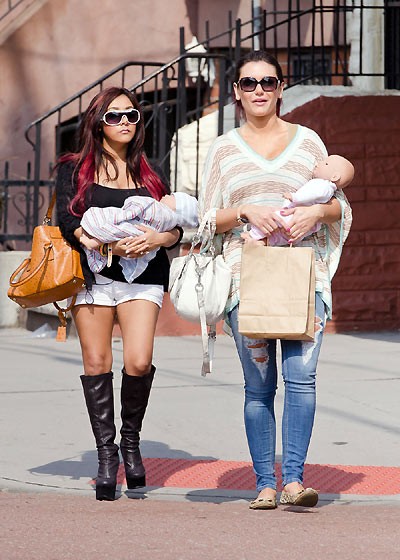 Pregnant Jersey Shore star Nicole "Snooki" Polizzi has been gearing up recently to become a mom, and the eccentric star was spotted Friday afternoon with castmate J-Woww carrying plastic baby dolls through the streets of Jersey City.

The two stars were filming scenes for their upcoming Jersey Shore spinoff, which promises to show more of the girls in hteir normal 'non-partying' lives.

"For our spinoff, you're going to see more of a different side of us than fans would on 'Jersey Shore'. The spinoff is just me and Jenni and we just want to show more of our other side, not partying so much," Snooki tells Fox411.

That's probably a good thing for the future mom if she wants to stay on TV; because on Saturday TMZ.com reported on rumors that the show's producers are seeking to 'phase out' Snooki from the show in favor of adding newer, wilder talent now that the star is going to be a mom and tone down her partying.
The network is also reportedly planning to do the same with Mike 'The Situation' Sorrentino after a recent stint in rehab may see his partying days come to an end also.

The cast is expected to return for season six, but the plan is to give new cast members more screen time and phase out everyone's favorite Guidette & Guido.