Snooki Drops 42 Pounds & Shows Off Her Bikini Body!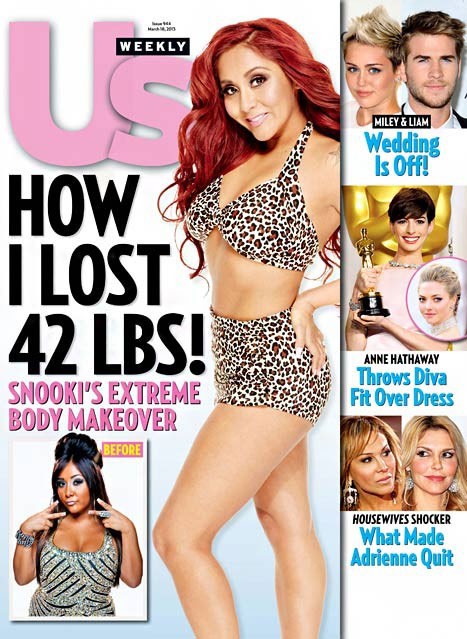 Pint-sized Snooki has always had some curves, but now the new mom is revealing her much slimmer figure after losing a staggering 42 pounds.
In the new issue of Us Weekly, the 4'9" star shows off her 102 pound body in a bikini and talks about motherhood and her fiance Jionni LaValle.
The former "Jersey Shore" star explains: "When you have a baby, everything changes." And she didn't lose the weight to impress anyone but herself. "I lost it for me, but I also wanted Jionni to know that I can be hot as a mom," she says.
Snooki, 25, gave birth to baby Lorenzo six months ago. She recently told Celebuzz that she wants four children. As soon as her new home in New Jersey is built, the couple plans on working on baby number two.
Meanwhile, the reality star isn't the only celeb who has opened up about her post-baby weight loss. Beyonce recenctly confessed to Oprah Winfrey she lost nearly 60 pounds after giving birth to daughter Blue Ivy.
Jessica Simpson lost 50 pounds following the birth of daughter Maxwell. She is currently pregnant with her second son.
Singer P!nk showed off her 55-pound weight loss on the cover of Fitness magazine in October. She worked out six days a week, doing cardio training, yoga and kickboxing to get herself back into shape.
READ: Snooki & 10 Other Celebs Who Easily Dropped The Pounds After Giving Birth