'SNL' Pokes Fun At Sign Language Interpreters; Deaf Actress Marlee Matlin Insulted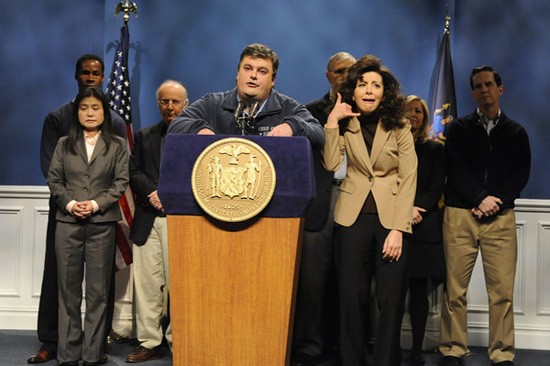 During the "Saturday Night Live" opening sketch over the weekend Fred Armisen and Bobby Moynihan impersonated New York City Mayor Michael Bloomberg and New Jersey Governor Chris Christie in a press conference sketch about Hurricane Sandy.
What made the sketch so entertaining was two castmates offering comic signing beside the mayor and governor. But deaf actress Marlee Matlin wasn't amused.
In a series of tweets she wrote: "Millions of deaf people use sign (language). Why poke fun/fake it? Poke fun at ME but not the language.
 
"Sign is not mime; it is a legit language. That's why I developed an App #MarleeSigns to teach it. As I've said, I don't mind fun poked at me, as I poke back. But at the language, that millions use? It feels childish and insulting.
 
"Here's my point. Deaf people HAVE a sense of humor... But faking signs that we use isn't the same. Imagine if a show started making fun of Spanish (using fake Spanish) or Japanese. Do you think they'd actually get away with it? Uh, no...
 
"The jokes about sign cold (sic) be funny if done right... Seinfeld, Family Guy, My Name is Earl WERE funny. This stuff is just dumb."
Watch the skit below: