Sneak Peek: The New 'Melrose Place'

The pilot episode of The CW's revamped "
Melrose Place
" includes a murder, an engagement, prostitution and so much more.
Like
its predecessor
, the show revolves around a bunch of 20-somethings who live in the same apartment complex. This drama has just the right elements to make a primetime soap fan giddy: inappropriate relationships, bribery, death and, well, you get the point.
On the series premiere, original characters Michael Mancini (
Thomas Calabro
) and Sydney Andrews (
Laura Leighton
) make appearances, and while one is major the other is forgettable. Where is
Heather Locklear
when we need her?
Will the new "Melrose" be as good as the old one? Well, just look at the "
Beverly Hills, 90210
" update
90210
for the answer - no. What was entertaining in the 1990s seems overworked in 2009. Making out with your 18-year-old daughter's best friend? Check. Offering your mother's doctor money for sex? Check. Plugging in so many characters we don't know who is who? Check.
Despite the obvious melodrama, there is a place for a new watercooler show on the fall lineup, and "Melrose Place" may be just the right thing to fill the slot.
"Melrose Place" will air Tuesdays on The CW this fall.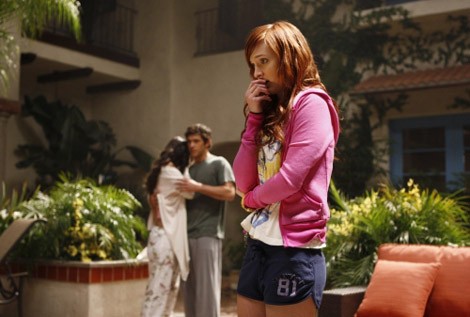 Story by
Noelle Talmon
Starpulse.com contributing writer