Sneak Peek: Inside 'Twin Peaks: The Entire Mystery' Footage!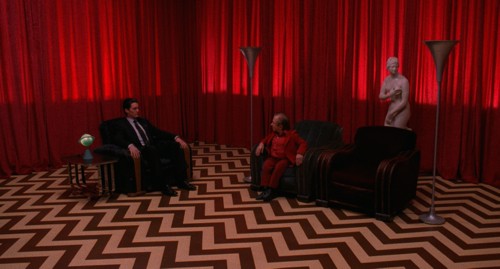 A few weeks ago I got a very large yellow envelope containing two cards with some very familiar images on one side (cup of coffee, slice of pie, blue rose!) and an invitation on the other.  The event proposed was a rare exclusive treat for a David Lynch fan like myself – a chance to see the World Premiere Screening of The Missing Pieces which are a full 90 minutes of Deleted and Extended Scenes from the film "Twin Peaks: Fire Walk With Me" on the big screen.  (And yes, considered to be the holy grail of "Twin Peaks" fandom!)  As part of a lush new set hitting Blu-ray on July 29 titled "Twin Peaks - The Entire Mystery And The Missing Pieces" (from CBS Home Entertainment and Paramount Home Media Distribution) featuring both the original series and the movie all supervised by Lynch personally, it was a chance to get rare insight into the flick and a filmmaker who is usually mum with extras and deleted material.  Not to mention the fact that Lynch and other Peaks cohorts were going to be in full attendance to ring in the party.  So below is an exclusive picture peek into the event, as well as some bullet point notables about the 90 minutes for those interested.  And while I won't reveal too much in terms of exact content, there will be some overall details.  So for those wishing to be totally surprised skip The Missing Pieces section below.  But for those seeking guidance on the value of the purchase of said set, I put my opinion via the Worth the Moola section based on the footage seen right at the bottom – is this one truly Lynch and/or Peaks fan worthy?  Check out below!
THE EVENT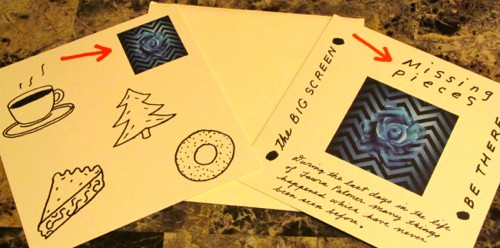 My invite is a cool collectable in itself – filled with stimulating and quirky imagery only Lynch would demand!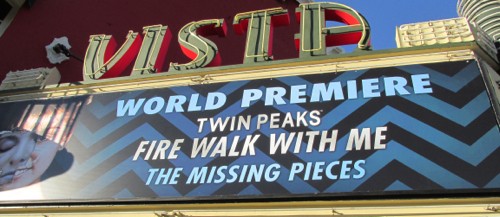 I arrive at the famed Vista Theater on Sunset Blvd. in L.A. and proceed to geek out seeing the likes of Miguel Ferrer, Sheryl Lee and Grace Zabriskie!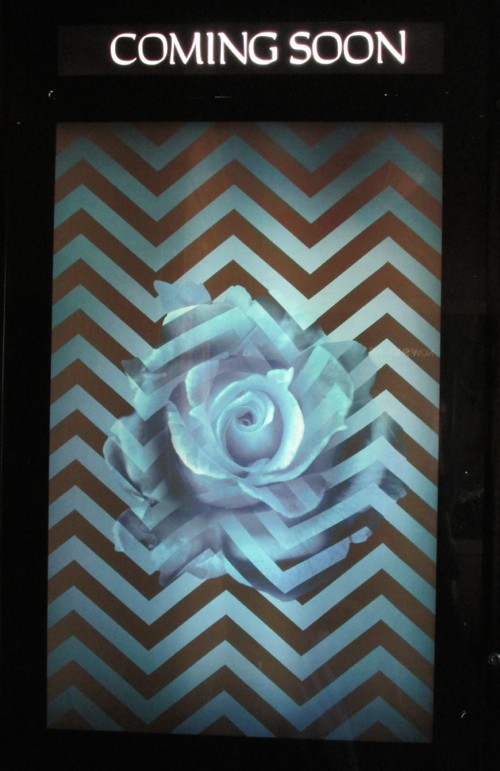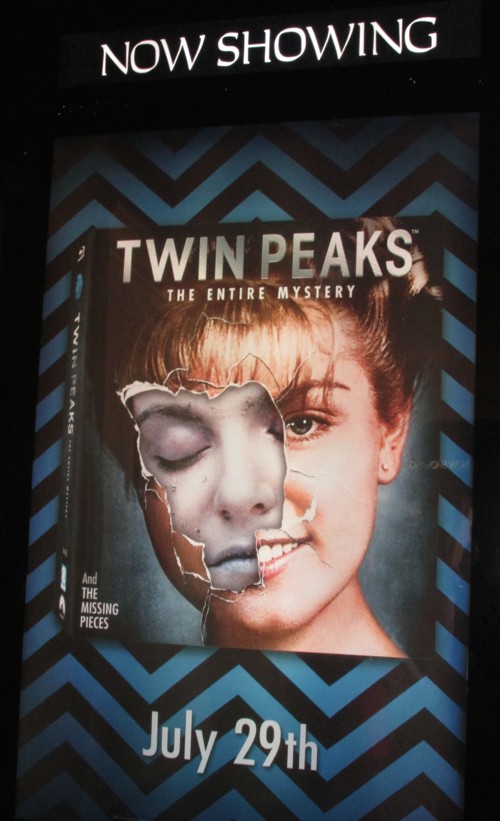 Various cool Peaks posters line the cases outside!
LYNCH INTRO
In what is a perfect pre-speech to the odd and interesting footage we are about to see, Lynch comes up and talks about wood and trees and their beauty.  Nothing on Peaks then and now at all unless you read between the weird Lynchian lines – he's back, baby!!!
THE MISSING PIECES
So what do Blu-ray buying fans have to look forward to in terms of The Missing Pieces?  Below are some of the highlights: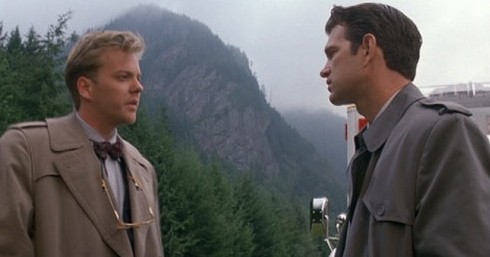 -there is thankfully more with FBI Agents Chris Isaak and young bowtie sporting Kiefer Sutherland (and, yes comedy ensues!)
-folks not seen or only glimpsed at in the original film are given more time here – Kyle MacLachlan, Dana Ashbrook, Madchen Amick, Eric DaRe, Joan Chen, Michael Ontkean, Kimmy Robertson, Harry Goaz, Peggy Lipton, Everett McGill and the late great Jack Nance to name a few – but strangely all deliver lines and come off in a Lynch like weird way that may disturb fans of the TV show's more light characters and also hints at why some may not have been used in the final film
-much more fun with Laura and her insane inspired parents Ray Wise and Grace Zabriskie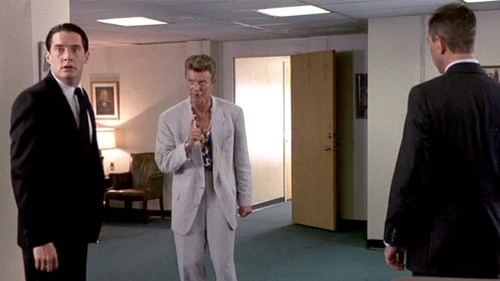 -finally insight into the character of FBI guy Phillip Jeffries played by David Bowie who got shortchanged for time in the original film (though nothing more on the whole long-bearded Jurgen Prochnow two-knee slapper cameo – still just the one scene dammit!)
-extra clue's into Cole's Blue Rose Cases
-more with small sized Michael J. Anderson as the Man From Another Place
-various acts of deviance by Laura leading up to the murder
-a telling scene that surprisingly gives Ray Wise's Leland Palmer motive to commit murder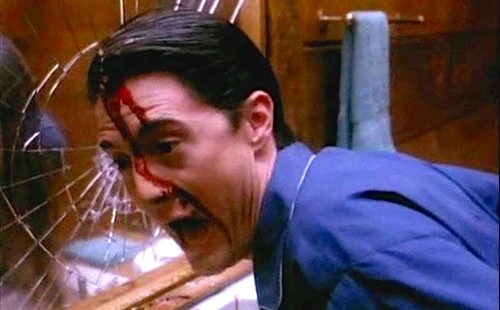 -finally, and most surprisingly, there's some further scene insight that goes BEYOND the season 2 finale where Cooper dove into the mirror
THE BONUS
Plus there was a bonus extra after the 90 minutes of footage featuring Lynch calmly and strangely interviewing Ray Wise, Grace Zabriskie and Sheryl Lee but as their respective Peaks characters.  Seeing as both Wise and Lee's characters are dead, the Q&A is full on Lynch morbid at it's best.
THE AFTERPARTY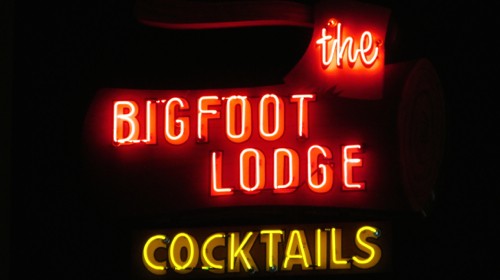 Needless to say there was an afterparty at The Big Foot Lodge complete with pie, doughnuts, and champagne toast.  Did I corner Lynch to talk – oh, yeah!  (And a little "Blue Velvet" poster signing may have taken place!)
WORTH THE MOOLA?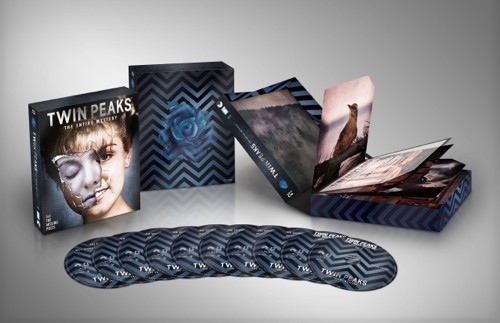 Worth The Moola: So – is the upcoming "Twin Peaks - The Entire Mystery And The Missing Pieces" worth the moola based on what I saw?  Hell, yeah!  While some Peaks fans may have found the film to be too intense without the grounding of TV partner Mark Frost (when I first saw the Fire Walk With Me premiere at the end of a weekend long Twin Peaks Fest in North Bend half the Peaks fans walked out mid way!), a true LYNCH fan would not be surprised at all by its brutal and beautiful brilliance.  The 90 minutes of footage on this set was lovingly put together by Lynch himself, which shows not only in the dark and mysterious tone, but also in the humor that comes from the abnormal.  It's a Lynch staple that I've missed and here in this footage it's back in full force.  Can't say what else is on this set, but even with just the bonus footage its well worth the price.  (aka if they don't send me one, I'm gonna have to buy the darn thing!)   
"TWIN PEAKS - THE ENTIRE MYSTERY AND THE MISSING PIECES" HITS BLU-RAY ON JULY 29 FROM CBS HOME ENTERTAINMENT AND PARAMOUNT HOME MEDIA DISTRIBUTION